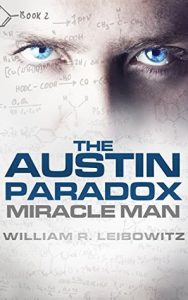 Welcome William, we are thrilled to have you on Reader's Entertainment. Let's start with you telling us a bit about your latest release. . . . . The Austin Paradox
A:  The Austin Paradox is the sequel to the critically acclaimed, award winning novel, Miracle Man, which was named by Amazon as ONE OF THE TOP 100 NOVELS OF 2015, a TOP 10 BEST SELLING THRILLER and a TOP 10 NEW YORK TIMES/AMAZON BEST SELLER. The Austin Paradox continues the remarkable saga of Robert James Austin, the greatest genius in human history, whose medical cures saved countless millions.  A fully "stand-alone" novel, THE AUSTIN PARADOX can be enjoyed without having read the series' first book.
In this emotionally charged medical/psychological/conspiracy thriller, the reader embarks on an unpredictable action-packed journey as Austin battles Big Pharma, the Director of the CIA, terrorists who lose control of a biological weapon, and a bevy of corrupt politicians and oligarchs.  The Austin Paradox opens with Austin having lost his extraordinary intellectual powers in a laboratory explosion that was intended to kill him.  Still in the prime of life, the blast cuts him down at the pinnacle of his brilliance and robs him of his tools. The greatest genius in history now struggles to find meaning in a life that has become devoid of purpose.  On a journey of self-discovery in an effort to regain his abilities, Austin clashes with private demons that threaten his sanity, a government obsessed with controlling him, and metaphysical forces intent on destroying him.  When ruthless political and business interests align to pose an existential threat to humanity, Austin is thrust into the maelstrom. Doubted even by those who love him, Austin confronts a harrowing paradox as time runs out to save mankind from extinction.
Q:  What do you feel is the most unique aspect of your story?
A:  Definitely, the protagonist, Robert James Austin.  As an infant, he is the victim of an unspeakable crime, but he rises to become a superhero who saves the lives of millions.  Austin is a multi-faceted character, a deeply complex, troubled and flawed genius.
Q:  What genre(s) is this and who do you think will enjoy reading it?
A:  The Austin Paradox is a thriller—specifically a medical/psychological/conspiracy thriller.  Woven into the plot are a variety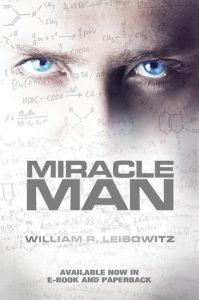 of current compelling social and political issues.  I think that anyone who enjoys a fast-paced realistic thriller that makes them think will enjoy the book. Also, science fiction readers will like it because of the medical/science content which is quite interesting.
Q:  Have you received any feedback on it yet, and if so, what was it?
A:  I've gotten terrific critical and reader reaction, with an overall Amazon rating of 4.7.  The following are just a sample of the reviews:
"Bringing a unique and compelling voice to the science fiction genre, Leibowitz set himself apart with his debut novel, Miracle Man, and The Austin Paradox now kicks his series into overdrive.  With plotting that is fast-paced, elegant and compelling, it's a shrewd, expansive and propulsive story that encompasses all the requisites of great science fiction.  From the quality and depth of his writing to strong literary values, Leibowitz continues to break new ground.  Delivering another superb novel, Leibowitz has done his many fans proud with a truly exceptional thriller.  The Austin Paradox is recommended without reservation and is an absolute must-read."   … Book Viral
"Connections between small events and larger consequences make for vivid, engrossing reading that doesn't sacrifice personal relationships for the higher cause of escalating a thriller's tense atmosphere.  This is an added plus to a story that grabs from the start and is just as hard to put down as a Robin Cook saga; perhaps more so, because the family atmosphere and characters in The Austin Paradox are exceptionally well-done.  It's hard to capture the full impact on the reader of the combination of a medical thriller paired with government and terrorist forces, and interwoven with international intrigue; all wound into one genius' life and times.  The result engages readers on many levels, from political to psychological to spiritual arenas, and is highly recommended for fans of medical and international espionage thrillers."   … The Midwest Book Review
"Leibowitz provides readers with well-developed characters and subplots that will scare even the most unshakable personalities.  But make no mistake–you will be kept on the edge of your seat right from the beginning.  The author does a great job of keeping the suspense and action going throughout the book and I recommend this compelling read to all who enjoy intense medical/psychological thrillers."   … Reader Views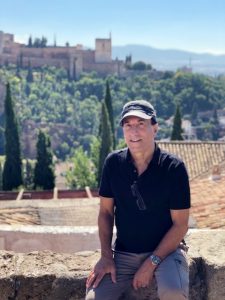 Q:  Tell us something about yourself that most of your readers may not know.
A:   One of my hobbies is raising Koi.
Q:   What's next for you?
A:    I'm thinking about my next novel. 
Q:   Where can people interact with you and find out more about you and your books?
A:    The best way is my website:   miraclemanbook.com
Thank you so much for joining us today. Readers, you can learn more about this amazing thriller series at Williams website. You can purchase any of his titles at miraclemanbook.com