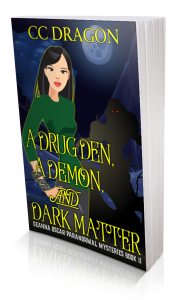 Deanna Oscar Paranormal Cozy Book 11: A Drug Den,  A Demon, and Dark Matter by CC Dragon
(Releasing Today!)
Greg is still missing and possibly possessed by demons. Everyone in New Orleans from police the paranormal crowd is trying to help. Deanna is invading every convent, monastery, and hideout she can think of because she can't seem to track her old friend down.
The bad guy who started it all is missing and not helping at all. Greg has made some new friends who see things very differently. Trying to keep Greg safe and free all of those inflicted by demons, Deanna needs a few clones but her friends, brother, and hubby will have to do!
Let's just hope those demons don't open a black hole or something serious…
About the Author:
Writing contemporary romantic suspense and cozy mysteries is my real love. Playing with the motives and passions of people in life or death situations is the ultimate fun for me…and if love is on the line as well, it just doesn't get any better!
Join me on an adventure or ten between the lines the legal system so arbitrarily draws. Be prepared to fall for con men, reformed thieves, former feds, and shameless rebels…They do what the law can't or won't.
Tell the truth: a guy who breaks the rules is really hot!
Oh…About Me?
I have lived in the Chicagoland area all my life, still do.
No, I'm not connected—to the legal system or anything else.
So cliché, but I do love fedoras and cats!
I own a gun…and yes, I can shoot it 
I love Ocean's Eleven, Leverage, Monk, Psyche, The Blacklist, and so on…all the rebels/misfits in all varieties.
I write stories with modern day Robin Hoods, crime stoppers, and Godfathers you can trust to get you justice!