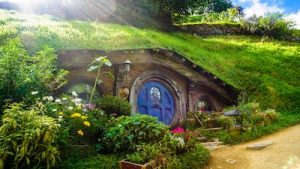 Top 5 Film Adaptations That Will Get Your Family to Read the Book by Brooke Chaplan
We all have different ways of enjoying media. Some of us like curling up with a tablet while others prefer a physical copy of a book. Film adaptations of popular novels are a great way to get those who aren't as interested in reading invested in a good novel. You and your loved ones can enjoy the movie together before reading the book version as well.
Holes
This 2003 film is based on the 1998 novel by Louis Sachar. It is commonly cited as one of the best film adaptations of a book. This might be because Sachar himself wrote the screenplay, so he naturally had the best idea of how to condense or change his novel for the big screen. Stanley Yelnats is the story's young protagonist. Stanley is sent to the juvenile detention camp, called Camp Green Lake. He and his fellow campers must figure out why they have been forced to spend their time digging holes every day. This is a great movie to use to interest younger teens in reading, as the story is fast and engaging and the book is a jam-packed but quick read.
Gone with the Wind
Gone with the Wind is perhaps the best known example of a book's film version. The Southern drama is over four hours long and will really stand out on your home theater system. Vivien Leigh appears as Scarlett O'Hara while Clark Gable stars as Scarlett's love interest and eventual husband Rhett Butler. The two have a tumultuous relationship that eventually culminates in their infamous exchange at the end of the film. Rhett decides to leave for Atlanta while Scarlett pleads for him to stay. This movie is a must if you have family members who love historical romances and dramas.
Stand By Me
Stephen King is an incredibly prolific horror writer who has had an equally prolific number of film adaptations under his belt. Stand By Me is the 1986 movie version of his short story, The Body. Four boys decide to go in search of the body of another boy. This coming-of-age drama is set in 1959 but its themes resonate far beyond that era. This is another good one to convince non-readers to sink their teeth into as the book version is a short but shocking novella.
Lord of the Rings
This geeky fantasy trilogy is by now so well known that you don't really need to plug it that much. If any of your family love fantasy, they'll enjoy this epic adventure directed by Peter Jackson. The book version is a much denser and longer read, but well worth it for those ready for a bit more of a deep fantasy experience.
Life of Pi
The 2012 adaptation of Yann Martel's novel stunned audiences with its beautiful visuals and realistic CGI. The complicated question raised at the ending and the emotional story of survival revolving around a boy trapped on a life boat with a tiger will give you and your family much to talk about and consider. The book is also a fairly easy read, with a lot of detail about survival and animals. It's an especially good read for any family members interested in psychology, biology, nature, and religion.
Book-to-screen adaptations provide an excellent family bonding experience. You can all get together and compare how well each movie holds up against its novel counterpart. And you might be able to show some non-readers in your family just how good some books can be!
Brooke Chaplan is a freelance writer and blogger. She lives and works out of her home in Los Lunas, New Mexico. She loves the outdoors and spends most of her time hiking, biking, and gardening. For more information, contact Brooke via Facebook at facebook.com/brooke.chaplan or Twitter @BrookeChaplan