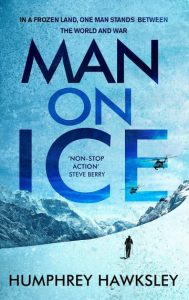 Man On Ice — The Rake Ozenna series are high-stakes, high octane thrillers pitting one man between the clash of two international superpowers, perfect for fans of Clive Cussler and Brad Thor and for those who love Jason Bourne, Jack Bauer and Jack Reacher.
Humphrey Hawksley, a former BBC foreign correspondent, is known to millions through his TV and radio broadcasts. His understanding of global power and experience of con ict drives his authentic, white-knuckle story-telling. 
"Hawksley's excellent idea is to move the battleground from Eastern Europe to the Arctic North" 
A new president. An old enemy. A deadly threat.
Special agent Captain Rake Ozenna watches as a fleet of Russian military helicopters heads straight for his home, a remote Alaskan island with a population of just eighty.
What he doesn't know yet is why.
Russia is playing a dangerous political game. In a daring act of provocation, it reclaims the American island as its own. Caught in the crosshairs of sabre-rattling big powers, Rake is determined to save his people and his island, even if it costs him his life.
About The Author:
Humphrey Hawksley has reported on key trends, events and conflicts from all over the world.
His work as a BBC foreign correspondenthas taken him to crises on every continent. He was expelled from Sri Lanka, opened the BBC's television bureau in China, arrested in Serbia and initiated a global campaign against enslaved children in the chocolate industry. The campaign continues today.
His television documentaries include The Curse of Gold and Bitter Sweet  examining human rights abuse in global trade; Aid Under Scrutiny on the failures of international development; Old Man Atom that investigates the global nuclear industry; and Danger: Democracy at Work on the risks of bringing Western-style democracy too quickly to some societies.
Humphrey is the author of the acclaimed 'Future History' series Dragon Strike, Dragon Fire and The Third World War  that explores world conflict.   He has published four international thrillers, Ceremony of Innocence, Absolute Measures, Red Spirit and Security Breach, together with the non-fiction Democracy Kills: What's so good about the Vote – a tie-in to his TV documentary on the pitfalls of the  modern-day path to democracy from dictatorship.
His work has appeared in the The Guardian, The Times, Financial Times, International Herald Tribune, Yale Global and other publications.  His university lectures include Columbia, Cambridge, University College London and the London Business School. He is a regular  speaker and panellist including at Intelligence Squared and the Royal Geographical Society, and he has presented his work and moderated at many literary festivals.
To learn more visit Mr. Hawksley's webpage.