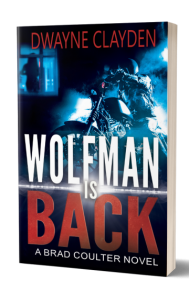 Wolfman is Back Third Book in the Brad Coulter series by Dwayne Clayden
When Jeter Wolfe escapes maximum security prison, he embarks on an elaborate revenge fantasy against everyone who put him behind bars.
Detective Brad Coulter discovers the Wolfman's primary target: Crown Prosecutor Jenny Blighe. But when Wolfe's plans are interrupted, this predator can't contain his violence for long, and the city soon sees the shocking results.
Coulter and his taskforce track the former enforcer of the Gypsy Jokers Motorcycle Gang with everything they have as he stalks his prey, but how do you hunt a hunter? As Coulter closes in on Wolfe, everything he loves is on the line.
Available NOVEMBER 7th in: Paperback and Kindle Price: $24.95 CDN ISBN: 978-1-7752564-6-5 (Paperback) Pre-order available for Wolfman is Back (Kindle)
Other novels in the series
Outlaw MC (Kindle)
Crisis Point (Kindle)
About the Author: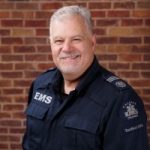 DWAYNE CLAYDEN writes crime thrillers. Dwayne was born and raised in Calgary, and resides in Bowness.
CRISIS POINT, Dwayne's first novel, was a finalist for the 2015 Crime Writers of Canada, Arthur Ellis Awards. OUTLAW MC is the second in the Brad Coulter Series. WOLFMAN IS BACK, the third in the Brad Coulter Series.
In his 40-year career, Dwayne has served as a Calgary Police Officer, Calgary Paramedic, tactical paramedic, firefighter, emergency medical services (EMS) chief, educator, and Academic Chair at SAIT. Dwayne is a popular speaker at conferences and to writing groups presenting on realistic police, medical and paramedic procedures. The co-author of four paramedic textbooks, he has spoken internationally at EMS conferences for the past three decades.
More information can be found about Dwayne at: DwayneClayden.com
Amazon Author Page: https://www.amazon.com/Dwayne-E.-Clayden/e/B0034PT4RI