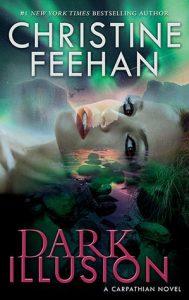 Dark Illusion (Dark #29)  by Christine Feehan
Review by Maureen Gianinio
Another wonderful read by Christine Feehan. This book contains so much its difficult to summarize in a review without feeling you're leaving too much out. You really need to experience this one in its entirety, submerge yourself in it!
The definition of Illusion is prevalent in many ways throughout the story. The magical use of power to make a thing wrongly perceived or interpreted by the senses. And information that gives a deceptive appearance or impression about a person or event, a false idea or belief based on information you have about others.
The hunt for Xavier's book is on! The book was somehow taken from the safe keeping of the Prince. I love the way it happened and no one suspected the truth. It leads to misconceptions and twists that make this book even more intriguing. The journey Isai and Julija have to take to discover each other's intentions is not the typical lifemate claiming. They move from separate untrusting journeys to one solid union to fight for their survival and the survival of the Carpathians. For them to reach that place they need to unravel their misconceptions, self perceptions, judgments of themselves and each other. To do this they need to be open, trusting enough to share their journey, their pasts. Both are heart-touching and heartbreaking.
Isai quickly realized he was wrong about his perception of her deceit and treachery. Understanding dawns as he comes to know her. Sees her reaction to events as they search for the book.
Julija has a bit more difficult time trusting, her life had bombarded her with so much deceit, misconceptions of herself and others, she doesn't know what is real, what to trust. She becomes open to him and their relationship through the support and knowledge she gets from her friendship, her bond with Elizabeta. Love the way this is shared in the book. Love how her self sacrifice for Elizabeta and the Carpathians is revealed, even with all it may cost her. She becomes one of my favorite heroines in the Series. Her courage and trust in him builds a strong bond that gives her hope and faith in herself, in him, and them as a couple and at last hope for victory.
As they share their histories, Isai begins to melt my heart. His stoic strength, facing those who had and would harm his woman, his encouragement to help Julija understand, come into her own abilities and admire her confidence in herself is so beautifully written. They use her knowledge and the knowledge he has learned from other Carpathians to fight the evil mages, form unique alliances. (Always trust someone who is kind to animals.) past events from previous books are wonderfully revisited as they decide how to proceed.
The love story that develops between them touches the heart. Forgiveness and acceptance, and the willingness to sacrifice everything for each other. they join together to overcome her family , discover the truth about his brother, and destroy Xavier's book.
All with action, and amazing Mage against Carpathian battles. Passion and romantic touching moments, and of course touches of humor. In the end one powerful mage remains as a danger to Julija and the Carpathians, adding even more danger beyond the Vampire threat. Questions about Ferro and Elizabeta are raised. And something big is brewing for the Ancients and those at Tariq's compound. I'm going to absorb all that's in this one for awhile while anticipating what's coming next!