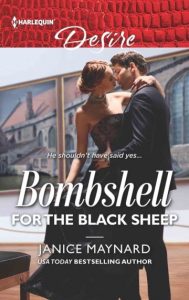 Bestselling author Janice Maynard knew she loved books and writing by the time she was eight years old. But it took multiple rejections and many years of trying before she sold her first three novels.
After teaching kindergarten and second grade for a number of years, Janice took a leap of faith and quit her day job. Since then she has written and sold over forty-five books and novellas. Her publishers include Harlequin, Kensington, Penguin, and Berkley.
Janice lives in east Tennessee with her husband, Charles. They love hiking, traveling, and spending time with family.
Enjoy Janice's fun RV interview with Lori Foster.
BOMBSHELL FOR THE BLACK SHEEP is Janice's latest release:
He shouldn't have said yes…
After their one night together,
there are explosive consequences.
When he disappeared after their last sizzling encounter, artist Fiona James vowed to forget rebellious billionaire Hartley Tarleton. Now Hartley has returned to Charleston to deal with the skeletons in his family's closet―and maybe turn his searing chemistry with Fiona into more than a one-night thing. But now she's pregnant with the heir Hartley swore he'd never have!