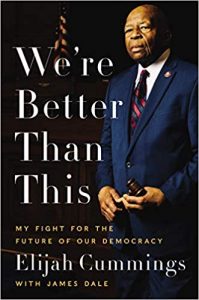 Harper, an imprint of HarperCollins Publishers, announced today the publication of We're Better Than This: My Fight for the Future of Our Democracy a memoir by the late Baltimore Congressman and Chair of the Committee on Oversight and Reform, Representative Elijah Cummings. The deal for world rights was negotiated by Lisa Sharkey, SVP and Director of Creative Development, HarperCollins Publishers and David Black of the David Black Agency. Executive Editor, Matt Harper, will edit the book which will be published on June 30, 2020. The book, which was nearly finished before his passing on October 17, 2019, was completed by his collaborator James Dale and his widow, Maya Rockeymoore Cummings.
In We're Better Than This, Cummings details the formative moments in his life that prepared him to hold President Donald Trump accountable for his actions while in office. Cummings powerfully weaves together the urgent drama of modern-day politics and the defining stories from his past. He offers a unique perspective on how his upbringing as the son of sharecroppers in a South Baltimore neighborhood, rampant with racism and poverty, laid the foundation of a life spent fighting for justice.
"Elijah Cummings was an American hero," says Sharkey. "His life story mirrors what our country has gone through over nearly seven decades. We were thrilled to have signed up his book during his lifetime and feel, in the wake of his passing, that his story and legacy are more important than ever before."
Part memoir, part call-to-action, the book goes behind the scenes with the House Democratic leadership, offering an eye-opening account of the grim realities of holding the Trump administration to account.  Detailing this moment of unprecedented obstructionism by both the President and GOP, Cummings' final words present a vital defense of how government oversight defines our collective trust and make the case that, even in the face of our unprecedented challenges, we must remain rooted in the politics of optimism.
ABOUT THE AUTHOR:
Congressman Elijah E. Cummings was born and raised in Baltimore, Maryland.  He earned his bachelor's degree in Political Science from Howard University, serving as Student Government President and graduating Phi Beta Kappa, and then graduated from the University of Maryland School of Law. Congressman Cummings dedicated his life of service to uplifting and empowering the people he represented. He began his career of public service in the Maryland House of Delegates, where he served sixteen years and became the first African American in Maryland history to be named Speaker Pro Tem. First sworn in as a member of the U.S. House of Representatives in 1996, Congressman Cummings proudly represented Maryland's 7th District since 1996. He became Ranking Member of the Committee in 2011 and was appointed as Chairman of the Committee in 2019.
Cummings often said that our children are the living messages that we send to a future we will never see. He was committed to ensuring that our next generation has access to quality healthcare and education, clean air and water, and a strong economy defined by fiscal responsibility.