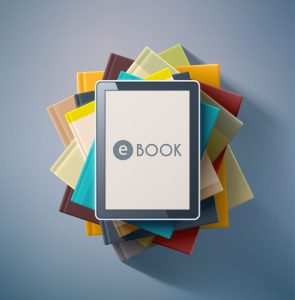 Pirating ebooks is not new. People steal. They have throughout history and they will continue until the end of time. People who purchase stolen goods and justify it, or are ignorant of it, will continue as well. The burden to stop such criminal activity falls to the person who cares the most about it. The victim.
Authors have their ebooks stolen on a daily basis. Criminals make a good deal of money by doing it. And though it isn't easy to stop such behavior, there are things you can do.
When it comes to eBay you have some options.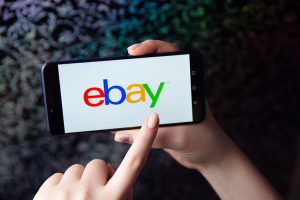 VeRO is Verified Rights Owner program that eBay uses to allow owners of intellectual rights to report listings or products that infringe on their rights.
https://www.ebay.com/help/policies/listing-policies/selling-policies/intellectual-property-vero-program?id=4349
This page gives you step by step instructions for reporting- https://pages.ebay.com/seller-center/listing-and-marketing/verified-rights-owner-program.html#m17-1-tb2
This is the page you have to fill out- https://ir.ebaystatic.com/pictures/aw/pics/pdf/us/help/community/EN-NOCI.pdf
Reason code would be 3.2 Item(s) is a counterfeit product which infringes a copyright.
This is a long and tedious way to take care of a chronic issue of stolen intellectual rights. You can take the document, fill out what never changes (create a template) and then you'll just plus in the URLs and product numbers as those change.  Then, you turn it in –
vero@ebay.com
This is a tedious process that takes time to do and then ebay takes their time reviewing and addressing the situation.  During the waiting process, the criminal selling your ebook or other intellectual property continues to make money and so does eBay.
Anytime I sent a report asking that an illegal item be removed I made sure to inform eBay that it was my opinion that they knew they have a chronic problem and were benefitting from illegal activity on their site.
Finally, one day, I got a phone call from someone at eBay. They told me to create an ebay account that would never be used to sell or buy anything. This would be the account they would assign to the author's work I was reporting as stolen. They would give me an electronic way to report stolen intellectual property, so it expedited the process.

You should request the VeRO reporting tool.
This allowed me to have illegal items removed so much faster. It also allowed for me to send a message to eBay if I wanted them to know anything special about the case and it allowed for me to contact the seller of the illegal goods.
I let eBay know each time that the person has broken the terms of service with eBay and I ask them if they're going to do something about it. I'm always polite. But, I always mention it.
I ALWAYS say something to the seller. Always.
It usually goes a little something like this-
You are a thief. You should be ashamed of yourself. You do not have permission to sell (author's name) ebooks.  I have reported you to eBay. If you do this again I will request that your ENTIRE ACCOUNT be removed. Do not do this again.
Of the over 100 cases I've reported I've only had one seller respond to me. They apologized. These people make way too much money selling stolen goods on eBay to want to take a chance that they will lose their entire account, especially if they have a following there.
READERS WHO BUY STOLEN BOOKS ON EBAY
Because many independent authors do sell their ebooks on eBay, legally, it is difficult for readers to be able to tell which are legitimate and which are pirated.  Authors need to make it known to readers or they need to police the eBay site themselves.
TRY HARDER TO STOP THE CRIMINAL ACTIVITY
Currently, eBay doesn't have a way for an author to simply opt out.  You can't send them a blanket statement saying no ebooks with your name on them can be sold.  Publishers and organizations that support authors should look into this and ask why it is eBay can stop the sale of body parts throughout its site, but it can't stop the sale of ebooks for certain authors when asked to.
Why don't publishers do more to stop this?
There are VeRO participant profiles that allow Verified Rights Owners to create a page and share information about intellectual property. Some smaller publishers have taken advantage of this.
https://pages.ebay.com/seller-center/listing-and-marketing/verified-rights-owner-program.html#m17-1-tb3
Having something available that lets readers know that certain publishers do not sell ebooks on eBay may not be helpful though. Many readers don't know who publishers their favorite author's books. So, it falls on the author to be aware of criminal activity on eBay and address it often.