Sheltering In With CC Dragon
Introverts were made for this! Honestly, I only mind that people are sick, stores aren't stocked, and people aren't living normal lives…but for me, the only thing that changed is things are closed and the grocery store isn't property stocked. I work from home it's really no different. Write, do laundry, cook, clean, and more writing—promote books, I always forget that.
I miss getting my nails done! Seriously, I type a lot and it's rough on my nails.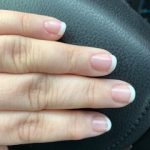 They split and break…it's awful…but if that's the worst thing, I know I'm lucky.
The one wonderful thing about this is I'm sort of a stocker…not a prepper with a bunker or anything weird. I like have extras of what I use. Well, this year had my stocker senses tingling early on. I'm not psychic (but I do have a para cozy mystery series about a psychic so maybe something rubbed off??)
My younger nephew got a nasty virus…then his whole school was closed down for 3 days because so many people were sick, they cleaned the school. This was early Feb…pre-corona hitting here. I live 8 hours away from my sister, her kids, and my mom moved down there too…so I feel pretty helpless when stuff happens. It's not fun…
But Amazon Prime let's me send stuff there for just as free shipping as I send it to my house 😀 So I send my mom stuff from time to time. I found funny masks online for the boys and I got my mom an N95 mask (not depressing, it's a pretty floral pattern). Mom is over 65 and she babysits A LOT so I wanted her to have some protection from all these kid germs…remember that nasty virus that closed the school? Eek.
I had NO idea what was coming…but a few weeks later, we started hearing about China…My sister, a nurse, still thinks I'm silly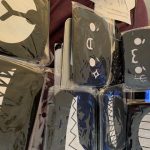 but soon I'll be a genius!
Nah, I'm a writer, and before I was an accountant. I have no great medical knowledge. But I do understand supply and demand…and how stupid people can be. I got on Amazon and order some extra TP and other essentials, went to the grocery store, and made sure my car is full…little things. Then again, Amazon…I sent my mom kitty litter, cleaning stuff, paper towels, TP, and kitty treats…(please note, there was no crazy hoarding of the TP. I ordered myself an extra package and sent my mom 2 large packages of the amazon brand—which is extra for 5 people: mom, sis, BIL, 2 nephews and with the boys being home from school, average usage is up).
My mom usually buys the fancy quilted brand so I sent her a bonus one package of that and told her to put the amazon brand on a shelf in the garage…if she hits that shelf, she'll know it's getting rough and they need to hit Costco and hunt more down.
Hand sanitizer…the one thing I didn't send ahead was that. Partly because I'd accidentally overbought. I have a ton of small bottles for swag! But I also bought a 4 pack back in January when I thought I was running low. I wasn't, the other 4 pack of 32 oz bottles somehow got shelved in the other closet…oops!
Rather–Whew, fam is covered!
I boxed up a bunch (plus some of the small promo ones for them to have) and took it to the UPS store. Now, I'm not stupid… NO WAY am I putting that it's hand sanitizer inside. It'd never make it out of the state. I put promotional items… It was technically true, my swag bottles were in there.
The box arrived and so far my fam has been safe and supplied. I did warn mom to get double the food and make use of the senior hours if they needed stuff. My sister has been helping and they're good.
Now the masks are a funny story too…my mother called up annoyed. She had her sewing machine out. Why?? My sister is a nurse and MUST wear a mask to work starting the next Monday (PS: they were informed on a Saturday). And even WORSE? They must PROVIDE their own masks…work will not provide it??????? What the @*&#(**#?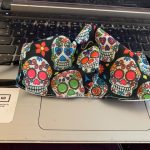 Now I told you way above (wow I'm rambling, sorry) that I got my mom an N95. I did send a set of about 20 of the funny face masks for the kids but they fit adults too. No reason my mom needs to sew a mask. My sister felt those were 'unprofessional'. Sigh…I told my mom to give my sister the N95 mask. I'd send my mom the N95 mask I'd bought for myself (just in case…it was the same one I got mom) to her. My sister and mom are way more high risk than I am…one being a nurse the other being over 65.
So that's what they did. I have a pic of my sister wearing that mask.
And YES>>>I lied to UPS again. I told them it was fabric swatches. N95 masks are like gold. My mom's getting it, not a thief. I don't have a ton. I had a couple fabric masks left. I got some for me and gave some out. My sugar skull mask is my fav!
The next day, my sister sends a pic of the doc she works for in one of the kids FUNNY FACE masks. And she's wearing one too. What the? Isn't that UNProfessional? She said the n95 was too hot/hard to breathe in for all day in the office. And other people really needed them so she put the n95 home in a safe place and shared the boys masks (she kept a few back for the kids and her hubby).
People thought the funny masks were cute…I'm all for sharing what we have but she made such a fuss about them being for kids. I think we all need a good laugh right now and it makes things less depressing with the masks are a little fun. anyway…sorry this is rambling on. Bottom line, people loved those masks and they were comfortable enough for a doc's office.
In the midst of all this shopping and shipping, I've been writing book 2 of the Southern Belle Cozy Mystery Series. It's about a young woman who moves back to help her Gran who is aging…Belle's parents ran off and left her with Gran so now it's Belle's turn to take care of family…and solve a murder or two. Flirt with a hot sheriff or country music guitarist…that's due to my editor soon. eek. Back to writing…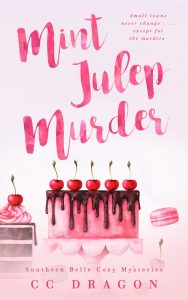 Book 1 is up for pre-order and comes out June 2nd…
From the wrong side of the tracks, Belle
always tried to do right…back home again she's still smack in the middle of a mess…
Ah, sweet home Tennessee, with the Music City, Dollywood and Murder…
Annabelle 'Belle' Baxter returns home to her small southern town after studying catering and hotel management, to help her Gran, the only real family she has. Determined to make their preserves shop a success, Belle expands the menu and boosts business—until the pompous sheriff drops dead, poisoned, after trying one of her signature smoothies.
People looking down on Belle is nothing new, but this time they're quick to point a finger as well. Now it's not just her high school rival or the perfect church ladies—the bumbling deputies want to pin it on her too, leaving her no choice but to find the murderer herself. If the preserves shop goes under, she and her gran are ruined.
But it's scary how many suspects her poking around turns up—the sheriff's jealous deputy, his pissed-off wife, the girlfriend he was about to dump his wife for, or even the handsome new deputy, Gus Haywood, whose city ways riled the stuffy sheriff. Belle can't let this handsome stranger distract her, not when she has to clear her name and protect the town she loves, despite its people.
Well, maybe he can distract her a little…
Publisher: https://www.totallybound.com/book/the-mint-julep-murder
Kindle: https://amazon.com/Mint-Julep-Murder-Southern-Mysteries-ebook/dp/B086WHNDLK
Kobo: https://www.kobo.com/us/en/ebook/the-mint-julep-murder-1
Nook: https://www.barnesandnoble.com/w/the-mint-julep-murder-cc-dragon/1136850343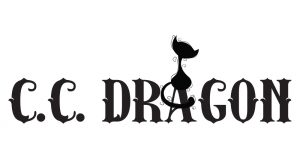 My random links:
Amazon: https://amazon.com/CC-Dragon/e/B00USM8LDI
Website: www.authorccdragon.com
Facebook: https://www.facebook.com/ccdragonauthor
Facebook Group: https://www.facebook.com/groups/752998138081518/
Twitter: https://twitter.com/authorccdragon
Insta: https://www.instagram.com/authorccdragon/