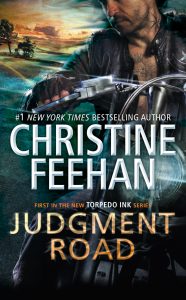 Judgment Road by Christine Feehan
My rating: 4 of 5 stars
Holy Moly it took me 2 years to finish this book! Why? It's dark, very dark, it deals with some tough issues, like PTSD, human trafficking, abuse, and all the effects that go with it. I started this book because the author is one of my favorites. Her stories always make me feel something, whether it's love, hatred, angry, warm and fuzzy, I always end up feeling something. This book was tough, my emotions were all over the place and I had to takes breaks between reading it. My mind wouldn't let me "go there" with some of the abuse scenes. Overall, this story is amazing, it's dark, gritty, but also full of hope, love, and understanding. Plus it takes place in one of my favorite areas of the World! If you're wanting a book that you'll get lost in, grab this one. You'll be in for a ride! Happy reading my friends!
View all my reviews – Reviews by Holly Irish
Book Summary:
An outlaw motorcycle club sets up shop next door to Sea Haven in the dangerously sexy new series from #1 New York Times bestselling author Christine Feehan.
As the enforcer of the Torpedo Ink motorcycle club, Reaper lives for riding and fighting. He's a stone-cold killer who turns his wrath on those who deserve it. Feelings are a weakness he can't afford–until a gorgeous bartender gets under his skin…
Near Sea Haven, the small town of Caspar has given Anya Rafferty a new lease on life. And she's desperate to hold on to her job at the biker bar, even if the scariest member of the club seems to have it out for her. But Reaper's imposing presence and smoldering looks just ratchet up the heat.
Anya's touch is everything Reaper doesn't want–and it brands him to the bone. But when her secrets catch up to her, Reaper will have to choose between Anya and his club–his heart and his soul.