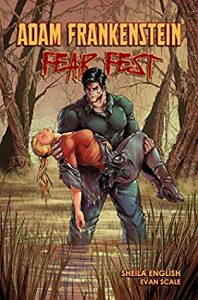 Adam Frankenstein: Fear Fest by Sheila English
My rating: 5 of 5 stars
I loved this story. Adam and Rebecca are strong characters and I like how they hunt for supernatural beings. I also love Bella, she's amazing. The artist did a great job with the characters. They make the story more intense because you can see the emotions on their faces. Truly a great comic! I can't wait for the next one!
View all my reviews – Holly Irish
Book Summary:
Legendary creature, now a U.S. Marshal, Adam Frankenstein is assigned to assist the New Orleans division of Mary Shelley's League of Supernatural Hunters in order to determine if someone has opened a portal to Hell.
Joined by his partner U.S. Marshal Rebecca Hughes, friends Eli Van Helsing, Bram Stoker and Victor Dracula and his lie-detecting immortal dog, Bella, Adam must take on practitioners of black magic and the woman who once called him "husband" to stop the forces of evil