The Major's Daughter by Regina Jennings
My rating: 4 of 5 stars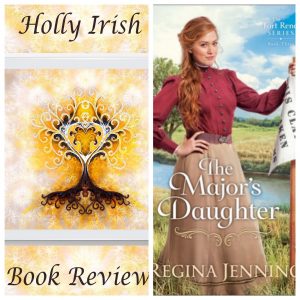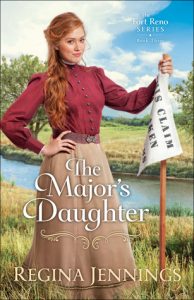 Wait what!? This is the 3rd book! How did I not know this! This is an amazing story. I love the strong characters and how this story is based on the Oklahoma Land Run. It gives a fictional insight to a truly amazing story that started and ended so many hopes and dreams in the 1800's. This story follows Caroline is wild, passionate, independent, and wanting to branch out on her own. She doesn't like being under her Fathers rule in Fort Reno and the Land Run is the perfect opportunity to get away. Together with her best friend Amber, they race to grab land for their own. They find the perfect spot to be neighbors, however, unbeknownst to Caroline, this land was already claimed by a boomer. A long time acquaintance Frisco plotted out this land for his own. He has a home, a garden, and soon this land will be his legally. However, things didn't go as planned during the race. Caroline got there before him and claimed his land. What unfolds is an amazing adventure and story that I was unable to put down. I can't wait to read the other books! happy reading my friends.
Book Summary:
Caroline Adams returns to Indian Territory after tiring of confining society life. She wants adventure, and when she and her friend Amber come across swaggering outlaw Frisco Smith, they find his dreams for the new territory are very persuasive. With the much-anticipated land run pending, they may just join the rush.
Growing up parentless, all Frisco Smith wanted was a place to call his own. It's no wonder that he fought to open the Unassigned Lands. After years of sneaking across the border, he's even managed to put in a dugout house on a hidden piece of property he's poised to claim.
When the gun sounds, everyone's best plans are thrown out the window in the chaos of the run. Caroline and Frisco soon find themselves battling over a claim–and both dig in their heels. Settling the rightful ownership will bring these two closer than they ever expected and change their ideas of what a true home looks like.