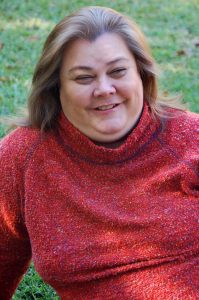 My Not So Lockdown Lockdown by Jillian Chantal
Hello out there. *taps mic* – Can you hear me? ? It's Jillian Chantal
Thanks for allowing me to share a bit of my life in lockdown as an essential business.
In my day job, I'm a private contractor hearing officer for the federal court system. We have been declared essential and boy, have we been busy. We had to reschedule over 90 cases to be heard by phone rather than in person.
It's like a marathon now when it's court day. I used to have six hearings set every thirty minutes and even if I got behind, I could catch up and be done with 24 cases in a bit over two hours. Now that they are by phone, they are set at 10 minute intervals. I sit with an open phone line and a tape recorder and people call in every ten minutes. Some hearings take longer and since I can't let the phones back up, I have to reset those for later in the day. It now takes over four hours to do the same 24 cases, if there are no issues. No getting up, no walking around to stretch,  and no bathroom break. It's exhausting because I also get paid to think while I'm conducting them. ? The thinking is draining- and the cases haven't stopped. It seems we're busier than ever. Emails, attachments to emails, phone calls, documents to review ahead of time as opposed to at the hearings themselves. I'm literally exhausted at the end of each day.
Anyway, we're fully operational. My husband is also essential and he has an office in the same building. My son works for me. So, there's only one person who works in our office that doesn't live with us. Being home vs being at the office is virtually the same as far as any exposure goes. We work, we go home. That's our life for now.
I have been pretty lazy at home, though. The first weekend in March, I attended a conference in Orlando (right before all the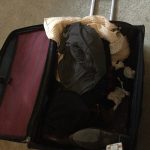 hotels closed and conferences were canceled). When I got home, I set my suitcase down in the living room. I took out a lot of stuff. Left in the formal gown, two sweaters, a pair of boots, and some socks as well as gifts I received from friends. That suitcase with those items still sits where I left it. I'm really quite amazed my husband hasn't nagged me about it. But, I have zero energy to move it or put away the contents.
Our cat loves brown paper from packages.  He's gotten up to several layers now. I haven't culled it out,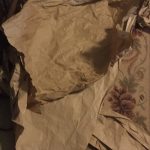 just keep adding more for him to play in. Good thing we aren't expecting company, right?
My husband finally finished the picnic table I've been asking him to build. He's installed it at the office in the shade so we can get outside to eat lunch instead of being constantly at our desks. Here he is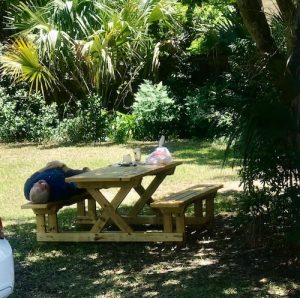 testing it out.
We did do one productive thing at home. Cleaned off our screened porch. The painted boards are the cat's to play/lay on and watch squirrels. Some might say we spoil that feline, but he's just another family member who needs not to be bored in the time of Covid-19. As for me, I'd like a little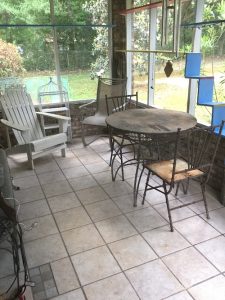 boredom right about now.  ?
Thanks for letting me pop in. Now, I better go unpack that suitcase. 
My latest book will be out the end of May. It's called Lord of Misrule and is a Regency era adventure.
This is the blurb:
What's worse than being a wallflower? Honora Marlowe doesn't know, but whatever it is, she is it. Or at least she thought she was. Overlooked by the members of the haut ton, she dresses to blend into the scenery and knows no one sees her.
Until the night at a ball when she's hiding behind a plant and hears two men she doesn't know discussing her vivacious sister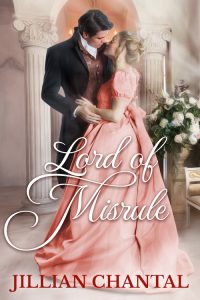 and how desirable she is. This isn't unexpected as her sister always outshines her. But when they then turn to discuss Honora, she no longer can pretend she's invisible. She's actually looked down upon.
James Cavanaugh, recently elevated to a baronetcy for bravery in battle, inherited a manor house from an army friend who died in his arms. He's on a quest to find a bride to help him run his estate. He finds himself attracted to Honora's sister when she is pointed out to him at that ball.
After hearing the men's conversation, Honora is appalled when her sister and she are invited to a house party at Lord Cavanaugh's estate. Forced to attend, she has no idea of the danger ahead. Blending in is no longer an option.