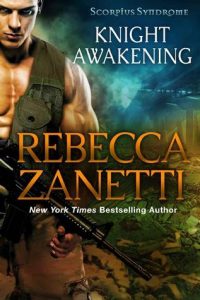 Knight Awakening by Rebecca Zanetti
My rating: 5 of 5 stars
Hold up wait this can't be the last book of the series! NO NO NO! I've waited for Marcus's story for a while now and this is what I get!? Seriously! UGH…. Don't get me wrong this is a great story. I love the story of Marcus and Penny. The insight into his past and what he has been through was eye-opening. As we all know the Scorpius syndrome either turns people into mindless, bloodthirsty Rippers or kick-ass heroes. Marcus, is one of those kick-ass heroes, along with Penny who is trying to find a cure and save the pregnant women. However, Vanguard is under attack from a crazy, psychopathic President who hell bent on destroying everything Vanguard is. Plus the water is running out and with over 600 people to protect they must move and fight. I can't say much more because I simply don't give spoilers. My one wish was that the ending was more. That it was not rolled up into a nice neat paragraph or so. I think it has come to an abrupt end which took me by surprise, and left so many things out. Moreover, reading this story during a pandemic heighten the storyline. Happy reading my friends.
Book Summary: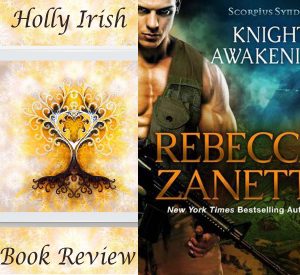 "Sexy, tough, and deftly sprinkled with dark humor." — New York Times bestselling author Larissa Ione
The Line Between Obsession and Love has Disappeared
The world has changed. Any rules that might've been in place before the Scorpius bacterium ripped through civilization and decreased its population are no longer in place. Obsession and survival are the new reality. So, Marcus Knight, after a hellish time in captivity that stole most of his memory and all of his soul, has one focus, and that's keeping Dr. Penelope Kim safe in the aftermath. She'd risked her life to save him once, and she's all that matters. For months, he's kept his distance, protecting her from afar, because he knows that one touch—one sigh—one kiss—from her will never be enough.
Passion is a Dangerous and Deadly Temptation
Penny Kim is one of the few doctors still living, and she alone holds the key to ensuring the human race continues. Several of her friends are pregnant, and the clock is ticking down on their survival. Her days are filled with experiments and hope, while her nights are consumed with visions and dreams of the hard-bodied and powerful soldier who's made her safety his one and only mission. She should be wary of him; she should be terrified of him. Yet all she feels is an unreal craving for his touch that gets stronger every day. Life is short, and she's unwilling to wait, unaware of the danger already hunting them both. Some risks are worth it, even in this new and dangerous world.
"Thrilling, post-apocalyptic romance at its dark, sizzling best!" –New York Times bestselling author Lara Adrian