IN HER OTHER LIFE—SHE IS ANNABELLA OF THE 12TH CENTURY…DEBRA PARMLEY
The SCA, or Society for Creative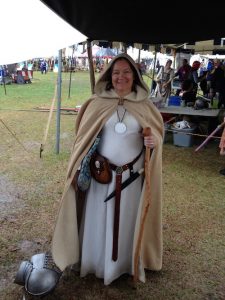 is a social group which plays or lives a medieval lifestyle on the weekends. I have been an active member for many years, beginning after my first couple visits. I learned about the group when my best friend, who was writing an article for Memphis's Commercial Appeal, asked me if I wanted to come along to a day event. Since I love history, especially medieval history, I eagerly said yes. The event was fun and I learned a lot so I went back and eventually joined.
Within the society I am known as Annabella of Caerlaverock, a 12th century Scottish woman. I chose this name because in the mundane world, I am a member of Maxwell clan, though my mother, Mary Maxwell Bishop. Caerlaverock, is one of the castles in Scotland the Maxwell clan owned. So, with this name I am honoring my grandfather, John Lyndsay Maxwell. I have an AOA which is an award of arms. My arms shows a book and a bell.
After I had been attending and having fun, my husband and our youngest son joined as well. There is so much you can do and see in the society that I could never fit everything into a few pages, so instead, I will let these pictures and a video give you a glimpse into this hobby that sweeps me away into medieval times.
In the first picture you can see me standing outside the medieval tent we've camped in several times. I'm wearing an underdress and an overdress made for me. Most of the medieval clothes I wear I have sewn myself or a friend sewed them for me. The canvas tent is round and has eight wooden poles inside. It takes a while for my husband and I to set it up. We've camped in this tent for a week at an annual event in Lumberton, MS called Gulf Wars.
It's a large event with several battles Here I am by our groups shade pavilion where we watch our men and women in battle. I'm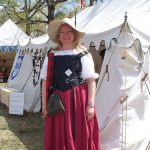 holding a wooden staff my husband carved for me and wearing a simple 12th century style medieval dress. The cloak was made for me by a friend.
Here I am shopping in the medieval village at Gulf Wars. I'm wearing my first corset and it was hot. I got a little light headed at one point and had to sit down for a bit. Shopping midday in a corset in the heat of Mississippi is not the best of plans.
At Gulf Wars there many activities to choose from such as dancing, classes on medieval arts, archery and rapier competitions, falconry, theater, shopping village and food vendors, and a medieval pub which has live medieval music. Here my husband and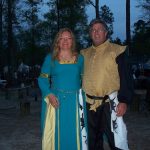 I are dressed in our finest medieval garb here, ready to attend evening court. 
I also shoot primitive archery using my Mongolian horse bow. Here is a pic which shows the length of the bow and the wooden arrows. My bow has a 70 lb. draw and I love shooting it. I made the simple 12th century style dress that I am wearing.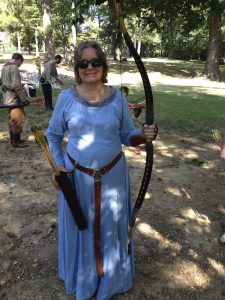 Here I am at an archery competition held at one of the weekend events. The dress and overdress were made for me.
This YouTube video, by my friend Deb for her Red Shoe Life YouTube Channel, presents an SCA day event which teaches fiber arts. You can see me making paper and taking a silk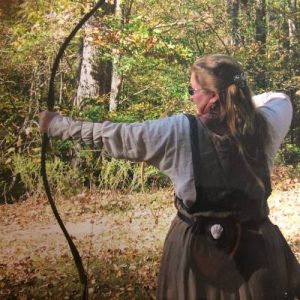 painting class here, and many of the other fiber arts offered.  https://www.youtube.com/watch?v=9RspIKSjBeo
Here is a video I made with my husband and son during the time of COVID stay at home to say cheers or in medieval speak.. Huzzah! Our group within the society, Shadow Legion, is putting together a video compilation of these videos to share on YouTube, so that will show up on my YouTube channel playlist in the near future.
You are likely to see my experience pulled into more of my writing in the future, from my fairy tales to historical romance or fantasy. I am currently re-writing and lengthening Vague Directions which starts out at an SCA event. It will be out this summer.
In the meantime, I hope you will enjoy our new Hansel and Gretel anthology.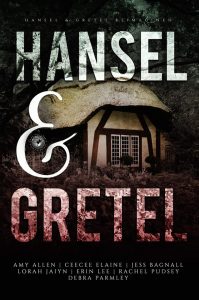 Welcome to Down the Rabbit Hole's retelling of Hansel and Gretel told to you by seven of your favorite authors. Each story will either tantalize, scare, titillate or all of the above in this exciting multi-genre anthology.
Each author will give you a version of Hansel and Gretel never told before.
Do you dare take the plunge?
Come and join us…Down the Rabbit Hole!
ABOUT THE AUTHOR: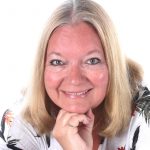 Author Debra Parmley believes "Every day we are alive is a beautiful day," and she likes to give her readers and her story people a story with a happy ending.
A multi-genre author, Debra's first romance, A Desperate Journey, a gritty western historical, was published in 2008 in eBook and 2009 in print after being selected as one of ten novels to compete in the American Title II contest put on by Dorchester Publishing and Romantic Times Book Lovers magazine. One year later, her agent sold the book to Samhain Publishing, a small traditional press which offered an advance. A hybrid author, she went on to write for five small presses before opening her own boutique press, Belo Dia Publishing Inc. Belo Dia is Portuguese for beautiful day.
An Air Force veteran's wife, Debra is most known for writing military romantic suspense. She also writes contemporary romance, historical romance, dystopian romance, holiday romance, fairy tales, fantasy and poetry. All of her stories contain some element of suspense.

Founder of Shimmy Mob Memphis, a chapter of Shimmy Mob international, an organization which raises funds for local domestic abuse shelters around the world, Debra is a retired belly dancer. Several of her books feature belly dancer heroines.
A world traveler, Debra often brings home folk tales and music from countries she has visited and has sold travel and set foot in over thirteen countries. She married her high sweetheart, who she asked out after a five-dollar bet, and she and her husband, after living in five states with two sons, have lived for over 23 years just outside Memphis, TN.
Five of her favorite things are shooting primitive archery with her Mongolian horse bow, shooting long guns, shooting pool, walking on a sandy beach, and hearing from her readers. Each card and letter is a joyful treasure, like finding that perfect shell on the beach.
Visit www.debraparmley.com
Website: www.debraparmley.com
Medium: https://medium.com/@debraparmley1
Kof-fi page: https://ko-fi.com/debraparmley
Debra on Teachable: https://beautiful-day-dreamers.teachable.com/
FB page https://www.facebook.com/debra.parmley.7
FB fan group:https://www.facebook.com/groups/debraparmley/
FB fan page: https://www.facebook.com/authordebraparmley/
To Catch An Elf: Debra Parmley's Creepy Shelf Elf Group! Every Dec. 12 days of creepy elf party https://www.facebook.com/groups/793115644206381/
YouTube: Debra's Beautiful Day YouTube Channel:
https://www.youtube.com/channel/UC27hTWse4gLJxTETQw6i7xw/
Instagram: https://www.instagram.com/debraparmley/
Pinterest: https://www.pinterest.com/debraparmley/
Book Bub: https://www.bookbub.com/ebook-deals/latest
Amazon author page: https://www.amazon.com/Debra-Parmley/e/B002BM9H4A%3Fref=dbs_a_mng_rwt_scns_share
Goodreads: https://www.goodreads.com/debraparmley
Newsletter sign up: https://landing.mailerlite.com/webforms/landing/w9s9h0