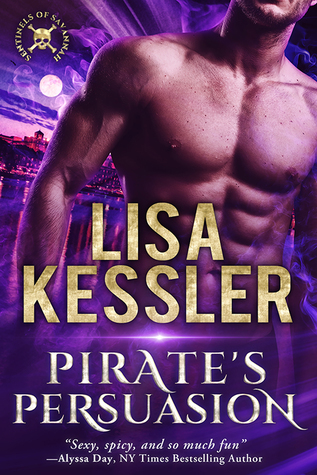 Pirate's Persuasion by Lisa Kessler
A Review by Holly Irish
My rating: 5 of 5 stars
For all that is yummy and delicious, this Pirate story is simply amazing! I was hooked from the first page on. I couldn't resist an immortal pirate that resembles Thor and works with his hands. Who could? The main character Heather is a strong and kind woman. She has the gift of sight and is able to communicate with the spirits. When a young spirit boy comes to her for help, she jumps at a chance to help the irresistible Drake. Drake who's an immortal pirate has a secret he's been keeping for over 200 years. None of his crewmates know and he keeps it that way. However, when Heather becomes involved to try and save him, things take a turn. This book is full of twists and turns that I didn't even see some of them coming! I can't wait to get my hands on the other books to this series. Happy reading my friends!
Book Summary: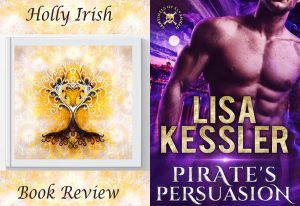 Immortal pirate Drake Cole has a reputation in Savannah for his custom woodworking and historical restorations, but his work has grown into an obsession. He's become a stranger to his crew since the Sea Dog sank in 1795. None of them know his painful secret. A young stowaway went down with the ship, one that Drake swore a blood oath to protect.
The ghost of a young boy, lost at sea over two hundred years ago, leads local medium, Heather Storrey right to Drake's door. He saved her life before, and now she has a chance to return the favor, but how can she protect him from a curse that no one can see?
A dark coven possesses the figurehead from the Flying Dutchman, and if Heather and the immortal Sea Dog crew don't locate the relic soon, Drake may be lost to them forever. Heather has seen the passionate man behind the veil of guilt, and she's determined to free him from his self-imposed prison, and persuade this pirate to love again.
Each book in the Sentinels of Savannah series is STANDALONE:
* Magnolia Mystic
* Pirate's Passion
* Pirate's Pleasure
* Pirate's Persuasion