As a writer of modern gothic and re-imagined horror classics, I love old, beautiful things. I write about Frankenstein, so I love science fiction/fantasy of which Frankenstein falls into both categories (my books also have romance/thriller in them as well). So, I doubt anyone will be surprised by my hobbies.
I've always loved antiques. Primarily I collect typewriters and I often fix them so they can be used. My oldest typewriter is a Model 5 Blickensderfer from 1893. I now have a little over 70 typewriters in my home. Yes, you can feel sorry for my husband.
I also collect antique cameras and telephones, but they don't take up as much room as the typewriters.
Because I'm a nerd and I love Sci-fi I collect everything Doctor Who. Doctor Who started back in 1963 on the BBC. I love how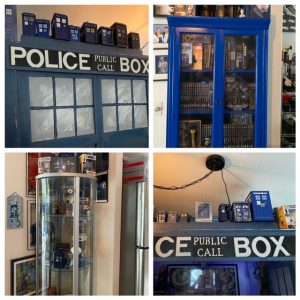 the stories often teach you something either about history or about ethics/morals. Mostly, it's wacky fun and I love the Doctor!
I'm not sure if my dog addiction…er…uh…I mean collection, is really a "collection" as much as it is a lifestyle choice. I have six now. All rescues. I've had up to eight at one time not counting fosters. I love dogs. Yes, you can feel sorry for my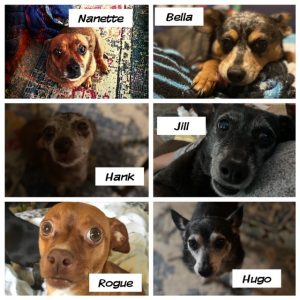 husband…again.
If you love any of those things I hope you'll tell me about it! Or tell me about your nerdy collection or love of animals or antiques.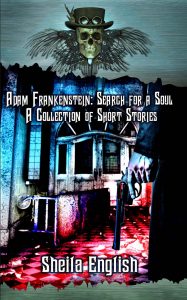 Adam Frankenstein believes he is immortal because he has no soul. As life gives him opportunities to prove his worth he finds that doing what's right isn't always made clear and that being a monster is sometimes the only way to survive.
Marked – A woman, her face half covered by a golden mask, offers herself in exchange for Adam's help. A mob has mistaken a child with special powers as a witch and look to kill her. Adam may have taken on more than he bargained for as the child marks him in ways that will change him forever.
Last Man Standing – Adam is accused of murder and a group of men hunt him down until Adam is forced to become the monster he's accused of being. But, sometimes the worst thing that can happen is to find yourself the last man standing.
Freak Show – Adam looks to fulfill the dying wish of his business partner and goes to America to find Jericho Nivens, the man's estranged son. The house where Jericho lives is made of magic and offers to make every dream come true. However, once the bargain is made, you can never leave. The house wants Adam and will give him everything his heart desires. As the cost becomes clear Adam tries to convince Jericho to leave with him… if they can.
The Madame and the Madman – No one loves revenge like Victor Dracula. When Adam asks his vampire friend to help stop a brothel that abuses children Victor's wrath extends to Adam. Adam is left with a terrible choice; take revenge or let revenge take him.
"Creepy as hell!" – Karen Rose, New York Time and International Bestselling Author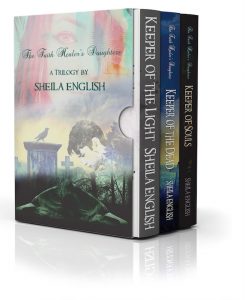 Their father was a great faith healer. And a murderer. Now he searched for them hoping to reacquire his daughters before they turned 18. Hoping to marry them off to the men he chose so he could control them, and their power, always.
ABOUT THE AUTHOR: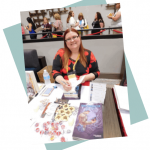 I worked in clinical laboratory science for 18 years. I worked in management, was a teacher at Ohlone College in Fremont, CA., and was an international speaker on a number of topics being blessed with the opportunity to speak at Oxford, UK at one point in that career. I was also an expert witness on many cases in California. And I was instrumental in changing laws in California so that phlebotomists had to be state-certified. I have the alphabet in an arbitrary string of letters at the end of my name. Having done all I wanted in that career I thought, what about entertainment? That has to be easier. Well, it's not. I started COS Productions and the idea of book trailers. I copyrighted the term "book trailer" which no one really cares about anymore, but I'm still proud of that accomplishment. I've worked with National Geographic, most every publisher in New York, George RR Martin, Christine Feehan, RL Stine, and other super cool authors whose names you'd likely recognize. I freely admit that it's a very cool job.
Links-