Aside from writing novels about serial killers and creatures that move in the shadows, I also have a love for photography. I picked up on this hobby back in 2011, after my son and wife bought me a Canon Rebel T-3.  I carried this trusty camera everywhere looking for subjects of opportunity. My indoctrination into the world of amateur photography began on the world's longest ice road, where I shot thousands of pictures. I've included a few of those shots for your pleasure. I also shot everything that caught my eye, from prairie landscape, to summer northern lights in the Northwest Territories and even apocalyptic cows. Photography has become a great love, one that I never have enough time to do, but I savor those occasions when I can. These photos inspire my writing, and some have even translated into cover art for some of my written work
I hope you enjoy viewing these random pictures as much as I have enjoyed capturing them. If you would like to see more, please visit my Flickr page at:
https://www.flickr.com/photos/mjpreston/with/7568520856/
Taken on November 21, 2012: A Super B Fuel Tanker, bound for Yellowknife, departs the Ferry, Merv Hardie, after crossing the McKenzie River/ capture by MJ Preston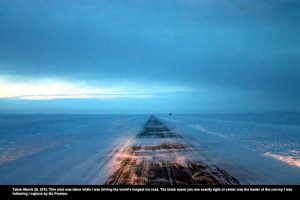 Taken March 26, 2012. This shot was taken while I was driving the world's longest ice road. The black speck you see exactly right of center was the leader of the convoy I was following / capture by MJ Preston.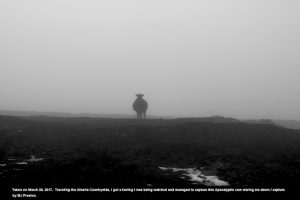 Taken on March 28, 2017.  Traveling the Alberta Countryside, I got a feeling I was being watched and managed to capture this Apocalyptic cow staring me down / capture by MJ Preston.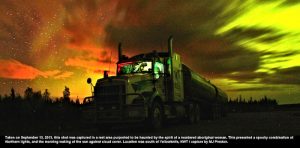 Taken on September 13, 2013, this shot was captured in a rest area purported to be haunted by the spirit of a murdered aboriginal woman. This presented a spooky combination of northern lights, and the waking of the sun against cloud cover. Location was south of Yellowknife, NWT / capture by MJ Preston.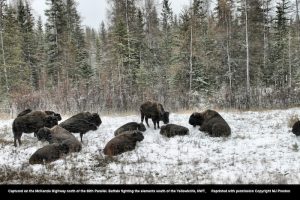 Buffalo fighting the elements south of the Yellowknife, NWT.
Reprinted with permission Copyright MJ Preston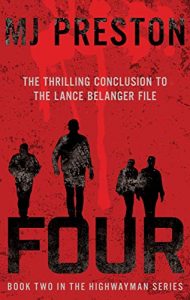 MJ's latest release……….FOUR: Book Two in The Highwayman Series
Having abstained from killing for almost a year, the Highwayman is coming unglued.
Unsure if the FBI is watching, Lance Belanger spends his days and nights in a paranoid malaise, longing to kill again. Meanwhile, in Bucharest, Romania, an Interpol raid leads to clues and a witness who can identify the Highwayman. Armed with new evidence, newly promoted SAC FBI Agent, Dave Maxwell heads for Bucharest, as his team of investigators redeploys their investigation on their original suspect, Lance Belanger. It would appear, the net is closing.
But the Highwayman has other ideas.
Just after dusk, outside of Pittsburgh, four strangers exit a service van and perpetrate the mass murder of four families in their suburban homes. It doesn't take long for the FBI to connect the killings to Highwayman, and when they raid Belanger's properties, they are left a parting gift.
Another murder and a message for Maxwell from the Highwayman himself.
Come and find me!
As the killing ramps up, Maxwell leads a posse of investigators across two states, north to Canada to try and thwart the Highwayman in his endgame, that involves kidnapping, mass murder, and betrayal.
The predator is now the prey.
But can they stop him before he disappears for good?
Available from WildBlue Press
https://wildbluepress.com/four-mj-preston-horror/
Amazon: http://wbp.bz/foura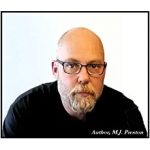 ABOUT THE AUTHOR:
I love interacting with readers and public, so if you contact me via social media I will be happy to add you to my list of friends. Because as readers, you are very important to me. I write stories for readers, and our relationship is paramount. Check me out!
To learn more about author and artist, MJ Preston, please visit the following links:
MJ Preston on Facebook
MJ Preston on Twitter
https://www.amazon.com/MJ-Preston/e/B005JTQMZY