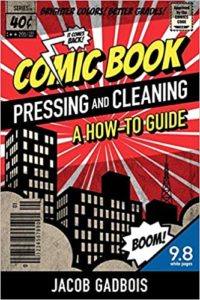 Comic Book Pressing and Cleaning: A How-To Guide by Jacob Gadbois
5 out of 5 stars!
Collecting comic books isn't just for kids. As a matter of fact, collecting, selling and trading comic books is big business with some comics bringing in thousands, sometimes hundreds of thousands of dollars.
If you're not a collector you probably don't know that comics, the old collectable ones, are graded by a company and the higher the grade, the more valuable the comic.
But, what do you do if you have a comic that is dirty, stained, torn or bent? How can you carefully increase the value of the comic without compromising or destroying it?
Jacob Gadbois gives us a look at how the professionals do it. Or, at least, how he does it. This is a step by step how-to on improving your comic's grade and look.
There was stuff in this that I had never heard of. My dad collects comics and was thinking it was time to sell so I started looking for ways to clean his up a bit before sending in to have them graded. This book was more than I could hope for. It's told in a way that even a layman, such as myself, can follow.
If you're looking to improve your comic book this is the way to go about it! Great book for collectors!
About the Book:
Learn how to press and clean comic books professionally or for yourself! There is much speculation in the community as to how and what this process is, and this how-to guide will show you the long-kept secrets of the pros. Gadbois lays out the entire process in a step-by-step easy to read format, materials list, and includes tips, tricks, and a troubleshooting chapter with plenty of full color photographs throughout the book.
Also included is a special chapter on washing, a method that is gaining traction as an un-"restorative" technique that can remove stains, tanning, foxing, and other defects long thought to be impossible without restoration! These techniques can also be used on collectible Baseball cards, Magic, Pokémon Cards, and old documents.