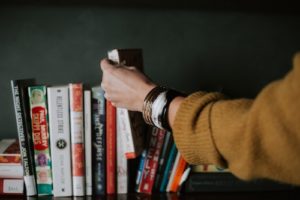 How Voracious Readers Can Deal with Neck and Head Pain
by guest blogger Brooke Chaplan
It is always fun to curl up with a good book for several hours. However, it is not fun to deal with the neck and head pain that comes with reading for so long. If you love to spend hours reading, keep the following tips for dealing with neck and head pain in mind.
Be Mindful of Your Posture When Sitting
You can start by being mindful of your posture when you are reading in a chair or on the couch. The last thing you want to do is lean down or forward to read your book. It is best to hold the book at eye level to maintain an upright position. You can place a pillow on your lap or knees to prop the book up while supporting your arms.
Be Careful When Reading in Bed
If you would rather read in bed, you want to continue to maintain an upright position. You can use several pillows to form a staircase or invest in a wedge pillow to support your neck and back. Remember to avoid leaning your head down or forward to read your book. You can also lie down on your side with the book in front of you to keep your neck straight.
Stretch and Exercise Your Neck
It also helps to stretch and exercise your neck to keep the muscles strong. You can find several neck exercises on reliable websites, or you can ask your doctor for a list of appropriate exercises. One example is a chin tuck exercise, which is a simple but effective exercise for your neck. The stretches and exercises should be performed throughout the day to keep the aches at bay.
Massage Your Head and Neck
There are also head and neck massages that can be done to manage your pain. You can learn massage techniques for areas such as under the back of the skull or on the neck itself. The massages improve blood circulation and release tension to reduce your pain. You can look into self-massage techniques or ask a trusted friend to give you a massage.
Seek Help from A Professional
If the pain is too intense or frequent, you may want to seek help from a professional. Start by visiting your physician or a TMJ dentist to ensure there are not any serious problems with your head and jaw. Tightly clenched jaws can cause or be caused by tendon strain.  You can also visit a massage therapist to help relieve the tension in these areas.
You can enjoy your book without any pain by being mindful of your posture, exercising your neck, and visiting a professional for relief.
Brooke Chaplan is a freelance writer and blogger. She lives and works out of her home in Los Lunas, New Mexico. She loves the outdoors and spends most of her time hiking, biking, and gardening. For more information, contact Brooke via Facebook at facebook.com/brooke.chaplan or Twitter @BrookeChaplan