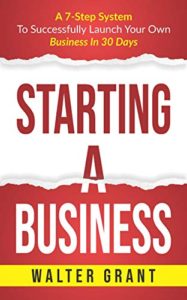 Starting A Business: A 7-Step System to Successfully Launch Your Own Business in 30 Days & Become a Great Entrepreneur by Walter Grant
A business books with 5 out of 5 stars
Walter Grant puts it all out there in easy-to-follow steps. If you've ever wanted to start your own business but didn't know where to start, this book will be your best friend.
The book explores things like why people don't start a business, or questioning whether or not you should. It's more about the logistics, the work, what you need to do than just encouragement. It does encourage you, don't get me wrong, but it's full of real world advice to best help you be successful in your endeavors.
There are checklists, templates and worksheets so you get a chance to really work out details and see how things are done one step at a time.
This is perfect for the NEW entrepreneur but even us old timers need updates on how to make things happen.
About the Book:
Ditch the 9-5 and join the ever-growing army of prosperous business owners…
Do you hate your day job and find yourself staring relentlessly at the clock every day, counting down the minutes to when you can finally go home?
Do you have a genius business idea that you are passionate about turning into a reality, yet don't know a single thing about owning a business, let alone start one?
Are you in search of a new adventure, a new phase of your life, where you become your own boss and make decisions according to your own visions?
With how repetitive work life can get, it's difficult not to fantasize about how life would be like if you didn't have to wake up at 6 am every morning, drive to work, and be someone's puppet for an entire day.
What if you were told that that dream didn't have to be a figment of your imagination, but a reality? Your reality.
No matter how many businesses pop up around the world, there will always be room for new ones to emerge. In this forever-evolving modern world, new ideas are always welcome.
So, the question is: What life-changing ideas will you bring to the market?
In Starting a Business, you will discover:
Step-by-step instructionson how to launch your own business in just 30 days without prior experience
A checklistfor each step of the way, guiding you along your journey and making sure you have all your ducks in a row before proceeding onwards to your next move
The 8 key skillsyou must adapt into your life in order to become a successful entrepreneur and achieve the unthinkable
How to gain loyal customersall while staying true to your morals which will have them supporting you until the end of time
The one step you cannot skip, or else it may prove to be the demise of your business
Why your employees' mindsetscould make or break your business, as well as how to mold them into one like-minded team
The secret to mastering salesmanshipwithout years of training–say goodbye to using sleazy sales techniques no one enjoys falling victim to
And much more.
If you're an absolute business novice and don't know the first thing about what it takes to launch your own startup, then don't worry, even you can follow along. With straightforward guidance, clear instructions, and a checklist to assist you every step of the way, becoming a business owner is not far from your reach.
You need not have saved up loads of cash over the past few years either, as funding a business is not as black-and-white as you may think. There are plenty of ways to find the money you need in order to finance your situation according to your level of comfort and the amount required, all of which will be covered.
If you have a business idea you know there will be customers for, don't keep waiting around! You need to get on track to construct the business of your dreams before someone else beats you to it.
And if millionaire Fraser Doherty, the founder of Super Jam, was able to start his own business at the young age of 14, then so can you.
The possibilities are endless! It's just up to you to take the initiative…
If you want to discover how you can become your own boss and lead the business of your dreams, then scroll up and click the "Add to Cart" button right now.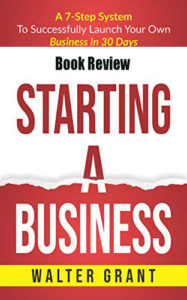 Reviewed by: Sheila English