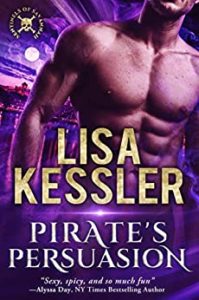 Pirate's Persuasion by Lisa Kessler
5 out of 5 stars
Review by Sheila English
If you've not read any of Lisa Kessler's Sentinels of Savannah series you are in for such a treat! First of all, because I know you're going to ask, "No" you don't have to read these in order. This is book 4 in the series and I was never lost once. It is a stand alone book for those of you who worry about such things.
Immortal pirates! Not shifters. Not vampires. Pirates. That are immortal. Ahhhhhhhhhhhhh!!!!! I love this so much!
Drake is one of the crew of the Sea Dog which sank in 1765 and he's carried the weight of his secret guilt to the point that he's nearly a stranger to his crew. It's a secret so painful that when Heather comes to tell him about a ghost with a message he is NOT so appreciative.
As always, the crew has an artifact they are after. This time is is the figurehead to the Flying Dutchman!
The hero and heroine have such great chemistry and this book has it all- romance, suspense, paranormal, adventure, action and fun!
ABOUT THE BOOK
Immortal pirate Drake Cole has a reputation in Savannah for his custom woodworking and historical restorations, but his work has grown into an obsession. He's become a stranger to his crew since the Sea Dog sank in 1795. None of them know his painful secret. A young stowaway went down with the ship, one that Drake swore a blood oath to protect.
The ghost of a young boy, lost at sea over two hundred years ago, leads local medium, Heather Storrey right to Drake's door. He saved her life before, and now she has a chance to return the favor, but how can she protect him from a curse that no one can see?
A dark coven possesses the figurehead from the Flying Dutchman, and if Heather and the immortal Sea Dog crew don't locate the relic soon, Drake may be lost to them forever. Heather has seen the passionate man behind the veil of guilt, and she's determined to free him from his self-imposed prison, and persuade this pirate to love again.
Each book in the Sentinels of Savannah series is STANDALONE:
* Magnolia Mystic
* Pirate's Passion
* Pirate's Pleasure
* Pirate's Persuasion