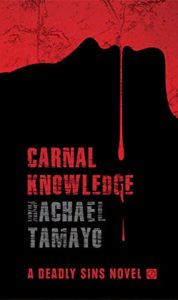 CARNAL KNOWLEDGE — A STUNNING NEW BOOK IN THE DEADLY SINS SERIES
By International Best-selling Author, Rachael Tamayo
"Carnal Knowledge" is a twisted tale of lust, but not the kind of lust that anyone is expecting. A woman is hunted by a killer in a world that is turned rapidly inside out as her life is put on a countdown by a madman. This killer has authorities baffled, and will leave readers with one question: What do you do when you know you're on a serial killer's hit list?
One thing is certain, some appetites are best left unsatisfied.
A serial killer on the loose, driven by darkness and obsession. A woman determined to not go down without a fight and refuses to be a victim. International bestselling author Rachael Tamayo is back with a highly anticipated Deadly Sins novel. With twists and turns to keep readers gripped, fans of Teresa Driscoll and Rachel Caine will be hooked in this unforgettable thriller.
"A well-written thriller that keeps the reader guessing until the end!" – InD'Tale Magazine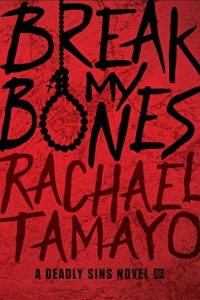 OTHER BOOKS IN THE SERIES
When rage holds you together, love will tear you apart.
Sticks and stones do break bones, and words will surely hurt you.
Staring down the barrel of a loaded 9mm is a wake-up call, especially when it's your husband's finger on the trigger. Brooklyn James's only thought is to take her baby and run. It's better to end up on the streets than suffer one more day beneath her husband's hand.  
Finally back on her feet, Brooklyn is stronger, better prepared, and determined not to run. That is until she gets the call that her husband has been released from prison after serving his three years for DWI.  
Cain James has his wife on his mind, always. With his friend Donovan at his side, anything is possible. He can find her, bring her home, make her love him again. While Cain has serious anger issues, Donovan is much worse. Cain can't control his friend's sick, twisted mind and even sicker actions. 
Donovan has Cain's best interest at heart, and he'll do whatever it takes to help Cain bring his wife home—including murder. After his time in prison, Cain doesn't want to hurt his wife again and becomes a man torn—divided between the darkness inside him, his twisted love, and his lifelong protector, Donovan. 
As Cain tries to convince his wife that he's changed, he watches the bodies hit the floor one by one at the hands of his sidekick. Enraged by his estranged wife's new love and conflicted by his own anger and need to protect his family, Cain unravels. 
He can't live without her, and he won't let her live without him. 
ABOUT THE AUTHOR: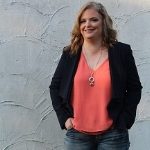 Rachael Tamayo is a former 911 emergency operator and police dispatcher.  After twelve years in those dark depths, she's gained a unique insight into mental illness, human behavior, and the general darkness of humanity that she likes to weave into her books.  A formerly exclusive romance author tried her hand at thrillers in her award-winning novel, Crazy Love, and loved it so much that she decided not to turn back.   Rachael is also the author of the internationally renowned domestic thriller, "Break My Bones and her newest novel Carnal Knowledge, the second in the critically acclaimed stand-alone Deadly Sins Series is out this July.  Born and raised in Texas, Rachael lives in the Houston area with her husband of sixteen years, and their two small children. More information can be found about Rachael at:
Facebook page https://www.facebook.com/RachaelTamayowrites
Facebook fan page https://www.facebook.com/groups/TheRTAsylum
Twitter https://twitter.com/rtamayo2004
Amazon https://www.amazon.com/-/e/B01HC2VZ0C
Goodreads https://www.goodreads.com/author/show/15251093.Rachael_Tamayo
Bookbub https://www.bookbub.com/profile/rachael-tamayo
To request additional review copies or an interview with Rachael Tamayo, please contact Mickey Mikkelson at Creative Edge Publicity: mickey.creativeedge@gmail.com / 403.464.6925.