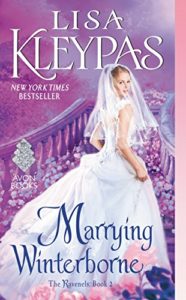 Marrying Winterborne: The Ravenels, Book 2 by Lisa Kleypas
5 out of 5 stars
Review by Sheila English
If only it were possible I'd give this 10 stars! This is by far my most favorite historical novel ever. And I read a LOT of historical novels!
This is a stay-up-reading-till-3am book!
Helen is sweet and innocent but she knows what she wants, so the mix of her courage and her innocence endeared her to me immediately.
Rhys Wintermorne is so utterly ruthless, dark and demanding I fell in love and hereby claim him as my own! Shhhh…don't tell Lisa Kleypas!
Helen is so utterly in love with him she does everything wrong. Just like in real life! Oh wait… maybe that's just me. *sigh*
They'd been engaged, but things went awry because of an impassioned kiss the innocent Helen was not prepared for. Feeling rejected, Rhys is not easily swayed when Helen seeks him out to fix the misunderstanding. Now we see just how ruthless Winterborne can get.
But, for all of his ruthless power and edgy sexiness he is so utterly in love with her that he does…yep you see it coming…everything wrong!
This book goes at such a pace you aren't sure if you're done crying by the time you're laughing. But, it's fulfilling as a romance in ways hard to express. If you've ever wanted to be swept away by a love story I promise you this is the book to get!
Just remember…Winterborne is mine. I called dibs.
ABOUT THE BOOK
A ruthless tycoon
Savage ambition has brought common-born Rhys Winterborne vast wealth and success. In business and beyond, Rhys gets exactly what he wants. And from the moment he meets the shy, aristocratic Lady Helen Ravenel, he is determined to possess her. If he must take her virtue to ensure she marries him, so much the better . . .
A sheltered beauty
Helen has had little contact with the glittering, cynical world of London society. Yet Rhys's determined seduction awakens an intense mutual passion. Helen's gentle upbringing belies a stubborn conviction that only she can tame her unruly husband. As Rhys's enemies conspire against them, Helen must trust him with her darkest secret. The risks are unthinkable . . . the reward, a lifetime of incomparable bliss. And it all begins with…
Marrying Mr. Winterborne