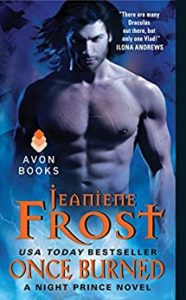 Once Burned by Jeaniene Frost
5 stars out of 5
Reviewed by Sheila English
I know, I know, this book was published years ago. Though, in my defense, 2012 isn't really all that long ago in book years.  What's worse is, I've produced book trailers for Jeaniene Frost in the past so I should have known to read ALL OF HER BOOKS!!!
Okay, that's out of the way. I've forgiven myself and now I've bought this entire series! But, let's start with Once Burned.
Vlad Tepesh is a big deal. Really. Like he is A BIG DEAL. He's a master vampire. Ruthless and cunning. He has a power over fire that makes him quite dangerous. I mean, he's strong and could tear your throat out, but fire, too?!!!
And I'm not even going to get into how absurdly sexy he is. Just look at the book cover! He's a 10 on the lickability scale!
Leila is an interesting heroine. Not kidding. She works in the circus and her best friend is a dwarf vampire who is like a father to her. Alas, poor Leila has a power worth kidnapping her for. If she touches something she can see the past, present or future of it.
So when these evil vampires (we know they are evil because they kidnapped our heroine) take her and demand she locate Vlad so they can ambush him she does something very witty. She makes contact with him and enlists his help. Then hopes he doesn't kill her when he arrives.
Not really a spoiler here…he arrives and decides to take her with him. Hey! He saved her. She owes him, right? Plus…lickability, remember?
These two have hot chemistry when they aren't driving each other crazy. But, Leila is no fool. Of course, she has sex with him!
This is such a fun book and you'll want to lick him…er…uh…I mean, read it too! I promise!
ABOUT THIS BOOK
Spinning off from her wildly successful, New York Times bestselling Night Huntress novels featuring vampire soulmates Cat and Bones, Jeaniene Frost kicks off the thrilling new Night Prince series with Once Burned. Vlad Tepesh, the ruthless master vampire and inspiration for Bram Stoker's dark legend (but don't dare call him Dracula) encounters a mortal woman with unimaginable power… including the ability to enflame his cold heart. Paranormal romance and urban fantasy fans who hunger for the novels of Kim Harrison, Christine Feehan, and Charlaine Harris are going to love The Night Prince and this dark and steamy tale of supernatural attraction.