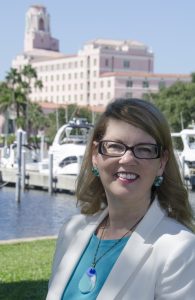 BEHIND THE WORDS WITH CHERYL HOLLON
Welcome Cheryl, we're excited to have you on Reader's Entertainment. First, tell our readers a bit about yourself. Where you're from, where you live? Is writing your full-time job?
Hi there, I was born in Hazel Green, Kentucky. It's a tiny hamlet in Eastern Kentucky at the foothills of the Appalachian Mountains. Soon after, my parents moved to Dayton, Ohio where I graduated high school and started college. I later finished my degree in Engineering at the University of South Florida in St. Petersburg, Florida. I still live there with my husband.
How long have you been writing?
After taking early retirement from an engineering career designing and building military flight simulators in amazing countries such as England, Wales, Australia, Singapore, Taiwan and India. I am fulfilling a lifetime dream, combining my love of writing with a passion for creating art.
I am a Past President of the Florida Gulf Coast Sisters in Crime, a member of Mystery Writers of America and International Thriller Writers. A mystery conference addict, I regularly attend SleuthFest in Florida, Malice Domestic in DC, and Killer Nashville in Tennessee. You will also find me at Left Coast Crime and Bouchercon, wherever they are being held.
Give readers a look at a typical writing day.
I get up at about 6:30AM, dress, make coffee, pack a lunch and head over to a dedicated desk at the co-working enterprise. I check in with Ramona DeFelice Long's Sprint Facebook group to declare my goals and then write for one solid hour with no interruptions. After that I check in with Social Media, and then complete the day's word target. After that I have lunch at my desk and work on Blogs, Website Updates, my Newsletter and the endless bits of administrivia that are part of any small business.
Tell us about your latest release?
My latest release is Still Knife Painting (Paint & Shine Mystery book #1) published in July of 2020 by Kensington Publishing Corp.
Where the idea came from?
My ancestral farmhouse is in Pine Ridge, Kentucky. Set in the middle of the Daniel Boone National Forest, Wolfe County has been a part of my life since I was born. My parents met and married there. My grandparents, great grandparents, and great, great grandparents were early settlers. I want to share my love for the beauty of the natural sandstone rock formations, the hard-scrabble Scots-Irish heritage of the people, and the struggle to overcome generations of poverty that still cling to the Appalachian mountain residents.
Perhaps you could share some fun moments, or not so fun moments from your books?
I just finished writing DEATH A SKETCH (Paint & Shine Mystery #3) and turned it in to my publisher, Kensington Books. I struggled with this book as my dad died while it was in progress. I'm not sure if that made my visits to the Wolfe County traumatic or therapeutic. My emotions were raw but even with some deadline relief, this book was hard to finish. All in all, I think it helped to accept that the farmhouse is a part of my heritage that will live with his memory.
Could you share one detail from your current release with readers that they might not find in the book? My grandfather was the Sheriff of Wolfe County for a short time – truly short. He was called out after midnight to break up an illegal still in a hidden valley. The moonshiners were angry to have their production run interrupted at a critical stage. They shot at my grandfather and the bullet clipped his mustache clean off. He quit on the spot.
If you could be one of your characters for a day which character would it be? Why?
I would definitely like to be Miranda Trent for a day. She has so much fun in her Paint & Shine business. She gets to scout out incredible locations to paint. She gets to help her cultural adventure tour clients discover classic southern dishes to taste and finally she gets to make moonshine in her micro-distillery in her family's ancestral barn. I want that life!
All writers are readers. Are there any particular authors that have influenced how you write and, if so, how have they influenced you?
My first love in mysteries was Agatha Christie's Miss Marple. I loved the quirks that she observed when everyone around her dismissed her sharp wit and flawless character judgement. I adore the Dorothy Sayers Lord Peter Whimsey books, especially the Harriet Vane editions. I'm also a big fan of Zane Grey for Westerns, Piers Anthony for Fantasy, The Foundation Series by Isaac Asimov. I would life in Louise Penny's Three Pines Village in a heartbeat.
Do you have a secret talent readers would be surprised by?
My entire family has played country music for generations. I began to sing as part of the Hollon Family Band when I was in high school. My mother, sister and I sang in three-part harmony. My dad played lead guitar, my mom played bass, my sister play piano, my brother played the drums while I played clarinet, saxophone and tambourine. It was a wonderful way to grow up.
Your favorite go to drink or food when the world goes crazy!
I want an entire pint of Ben & Jerry's Chunky Monkey ice cream.
What is the one question you never get asked at interviews, but wish you did?
What part of your writing career is the most enjoyable? Readers who love my books!
Thank you so much for joining us today, Cheryl!!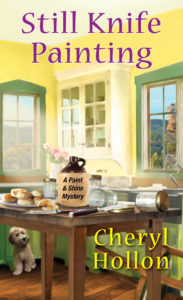 Here's look at Cheryl's latest release::::::::::
After inheriting her uncle's Red River Gorge homestead in Eastern Kentucky—smack dab in the middle of the Daniel Boone National Forest—Miranda comes up with a perfect business plan for summer tourists: pairing outdoor painting classes with sips of local moonshine, followed by a mouthwatering sampler of the best in southern cooking.
 
To Miranda's delight, Paint & Shine is a total success—until someone kills the cook. As the town's outsider, suspicion naturally falls on Miranda. Murdering the best biscuit baker of Red River Gorge is a high crime in these parts. Miranda will have to prove her innocence before she's moved from farmhouse to jail cell faster than she can say "white lightning" . . .
You can purchase STILL KNIFE PAINTING at these outlets.
ABOUT THE AUTHOR:
Cheryl Hollon writes full-time after an engineering career designing and installing military flight simulators in England, Wales, Australia, Singapore, Taiwan, and India. Living her dream, she combines a love of writing with a passion for creating glass art in St. Petersburg, Florida.