Welcome Daryl, we're excited to have you on Reader's Entertainment. First, tell our readers a bit about yourself.
Where you're from, where you live? Is writing your full-time job?
I live in Los Angeles. I'm originally from Northern California. I've been in Los Angeles most of my life, though I did move to Florida, North Carolina, and Connecticut before returning "home" to Los Angeles ten years ago.  Writing is my full-time job, I'm happy to say.
How long have you been writing?
I started writing when I was an actress. I wrote TV and film and was lucky enough to have a TV show idea that I created picked up for a series, but when we moved across country (to Florida) for my husband's career (a wise choice!), I gave up acting and focused my time on writing what I'd always loved to read: suspense and mystery. I took lots of classes. I joined a super critique group (all of us are now published), and I put a number of manuscripts into drawers that have not and will not EVER be opened. 
Give readers a look at a typical writing day.
I wake up early, walk my goldendoodle Sparky, exercise, do my crossword puzzle with breakfast and then get to work around nine. I write until noon. I do a little email and PR, eat lunch, and get back to writing. That could include promotional materials, synopses, outlines, or rewrites. It's not all fun and games.
Tell us about your latest release. Where the idea came from? Perhaps some fun moments, or not so fun moments?
I was at a Renaissance Faire and I fell in love with the art of fairy gardens. A woman who was there glowed with a lovely energy. I wanted to connect with that same glow. I found a garden store not far from me that focused on fairy gardens. There aren't a lot of them. For me, it was Kismet! I went to the store and fell in love with everything there. So, I decided to create a character who could live the life of a shop owner who brings joy to customers by helping them design fairy gardens. It's well known that seeing a fairy will bring luck into one's life.
Could you share one detail from your current release with readers that they might not find in the book? Perhaps a juicy bit of back-story, or something only you know about a character.
During high school, Courtney was good friends with Brady Cash. They shot hoops and were in photography class together. (That part is in the book.) If she were honest with herself, however, she had eyes for Brady. Every girl did. He was likeable, funny. Older. However, afraid of being rejected, she maintained the friendship and never let on that, if pressed, she might say yes to a date. When her future fiancé walked into her life, she forgot about Brady, but she had often thought of him after her fiancé broke off their engagement. And she has kicked herself many times for not feeling confident enough to track him down and ask him for a date. Now…?
Who has been the most difficult character for you to write? Why?
Courtney's father. I want him to be loveable, but he's quite stern. He raised her by himself and he was a good father, but having been a cop and being a man who likes rules and regulations, he isn't warm and fuzzy. So, I'm afraid he doesn't come across as kind as I'd like him to be. She adores him. Admires him. Respects him. In the second book, I tackle their relationship. It's amazing how many characters I'd like to make the focus of a book. Maybe that's why a series can consist of ten to twenty stories, because of the additional cast members.
If you could be one of your characters for a day which character would it be? Why?
Fiona. I love to fly. I'd love to do somersaults in the air. I'd love to flit around people and listen in on their conversations. I have to admit that I wouldn't want to suffer the queen fairy's wrath, but boy, I'd have fun for a day. Promise. I can be an imp.
All writers are readers. Are there any particular authors that have influenced how you write and, if so, how have they influenced you?
I fell in love with mysteries because of the Nancy Drew stories. Then I read all the Agatha Christy novels. I love whodunnits. But I also love suspense. My favorite book is Rebecca. I adored Jane Eyre. Dark secrets, kept close to the chest, intrigue me. Now, I read across genre, so I have many favorite "current" authors: Krista Davis, Jenn McKinlay, Ginger Bolton, Hannah Dennison, Harlan Coben, Meg Gardiner, Alison Gaylin…and so many more.
Do you have a secret talent readers would be surprised by?
I'm not sure it's a secret talent. In my youth, I could be a bit of a daredevil. I hitchhiked around Ireland by myself and I jumped out of a perfectly good airplane (with an instructor). Loved skydiving. It takes tons of time to learn the skill, and I'm way to busy, so I did not devote myself to learning it, but I loved the experience. I also like to sign and dance – just not mid-air.
Your favorite go to drink or food when the world goes crazy!
Chardonnay, the oaky kind. Dark chocolate. Vanilla ice cream. Peaches, if they're ripe. Yes, this is a balanced meal. Almost all the food groups.
What is the one question you never get asked at interviews, but wish you did? Ask and answer it.
I've been asked a lot of questions, but no one has ever asked where I get my perseverance. Being a middle child with an older sister who decided she was NOT going to be the perfect, nose-to-the-grindstone typical oldest child, I took up the mantle and became a Type A personality. I try to do everything right. Always. I'm much better at failing now that I'm older. But I rarely give up.  Okay, I will admit I gave up on a Monet water lilies jigsaw puzzle recently. Every piece was blue and nearly the same shape! Honestly? What madman made that one?
Thank you for joining us today, Daryl!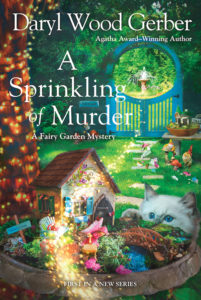 Fairy garden store owner Courtney Kelly believes in inviting magic into your life. But when uninvited trouble enters her shop, she'll need more than a sprinkling of her imagination to solve a murder . . .
Since childhood, Courtney has loved fairies. After her mother died when Courtney was ten, she lost touch with that feeling of magic. A year ago, at age twenty-nine, she rediscovered it when she left her father's landscaping business to spread her wings and start a fairy garden business and teashop in beautiful Carmel, California. At Open Your Imagination, she teaches garden design and sells everything from fairy figurines to tinkling wind chimes. Now she's starting a book club tea.
But the light of the magical world she's created inside her shop is darkened one night when she discovers neighboring dog-grooming business owner Mick Watkins dead beside her patio fountain. To make matters worse, the police suspect Courtney of the crime. To clear her name and find the real killer, Courtney will have to wing it. But she's about to get a little help from an unexpected source . . .
You can purchase A SPRINKLING OF MURDER at:
Website: http://darylwoodgerber.com/fairy-garden-mysteries.php#sprinkling
Amazon: http://bit.ly/SprinklingofMurder
Barnes and Noble: http://bit.ly/SprinklingofMurder_BN
Bookbub: http://bit.ly/Bookbub_Sprinkling 
Books a Million https://www.booksamillion.com/p/Sprinkling-Murder/Daryl-Wood-Gerber/9781496726346?id=7747099870968
Books Inc https://www.booksinc.net/book/9781496726346
Google Play https://play.google.com/store/books/author?id=Daryl+Wood+Gerber
https://bit.ly/Sprinkling_Murder_Google
Indiebound https://www.indiebound.org/book/9781496726346
Kensington   – https://www.kensingtonbooks.com/author.aspx/33116
Kobo https://www.kobo.com/us/en/ebook/a-sprinkling-of-murder
Murder by the Books https://www.murderbooks.com/book/9781496726346
Mysterious Galaxy : https://www.mystgalaxy.com/book/9781496726346
ABOUT THE AUTHOR:
Daryl Wood Gerber is the Agatha Award-winning, nationally bestselling author of The French Bistro Mysteries, featuring a former chef who is now an up-and-coming bistro owner in Napa Valley, and The Cookbook Nook Mysteries, featuring an admitted foodie and owner of a cookbook store in picturesque coastal California. Under the pen name Avery Aames, Daryl writes the Agatha Award winning, nationally bestselling The Cheese Shop Mysteries set in fictional Providence, Ohio. Daryl also writes suspense novels, including the Aspen Adams books and stand-alones, which have garnered terrific reviews.
Prior to her career as a novelist, Daryl wrote screenplays and created the format for the popular TV sitcom Out of this World. A fun tidbit for mystery buffs, Daryl was also an actress and co-starred on Murder, She Wrote, as well as other TV shows. Daryl is originally from the Bay Area and graduated from Stanford University. She loves to cook, read, golf, swim, and garden. She also likes adventure and has been known to jump out of a perfectly good airplane.
WEBSITE: http://www.darylwoodgerber.com
FACEBOOK: http://facebook.com/darylwoodgerber
TWITTER: http://twitter.com/darylwoodgerber
BOOKBUB: http://bookbub.com/authors/daryl-wood-gerber
YOUTUBE: http://youtube.com/woodgerb1
INSTAGRAM: http://instagram.com/darylwoodgerber
PINTEREST: http://pinterest.com/darylwoodgerber
GOODREADS: http://goodreads.com/darylwoodgerber
AMAZON: amazon: http://bit.ly/Daryl_Wood_Gerber_page