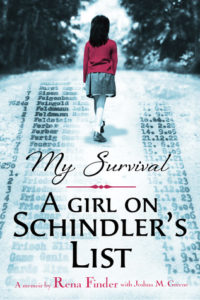 My Survival: A Girl on Schindler's List by Rena Finder
My rating: 5 of 5 stars
What you have to remember here is that this story is told through the memories of someone who survived the most horrific massacre in the world. She is 90 years old and some details of what she went through she will not tell. This book brought up so many emotions especially in the world we live in today of unrest. Here experience of living in the Krakow Ghetto and then being shipped off to Auschwitz were horrid. There are many parts that had me in tears and in disbelief. Even though I've studied the Holocaust in school, hearing or reading from survivors is something totally different. It's more personal. So if you are into history and wanting to read something that's real, raw, and tells history from a survivors eye this is the book for you. Happy reading my friends.
Book Summary:
The astonishing true story of a girl who survived the Holocaust thanks to Oskar Schindler, of Schindler's List fame.
Rena Finder was only eleven when the Nazis forced her and her family — along with all the other Jewish families — into the ghetto in Krakow, Poland. Rena worked as a slave laborer with scarcely any food and watched as friends and family were sent away.
Then Rena and her mother ended up working for Oskar Schindler, a German businessman who employed Jewish prisoners in his factory and kept them fed and healthy. But Rena's nightmares were not over. She and her mother were deported to the concentration camp Auschwitz. With great cunning, it was Schindler who set out to help them escape.
Here in her own words is Rena's gripping story of survival, perseverance, tragedy, and hope. Including pictures from Rena's personal collection and from the time period, this unforgettable memoir introduces young readers to an astounding and necessary piece of history.