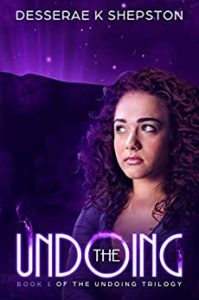 The Undoing: Book 1 of the Undoing Trilogy by Desserae Shepston
4.5 stars out of 5
If you like Divergent, this could be right up your ally. It's the same vibe, but not the same story.
So, this is a young adult dystopian tale with a strong female lead and great characters. There are some parallels, in my opinion, to what's going on in America today, which I thought was clever.
Rebecca and her friends learn that life as they know it is not what it seems and must become renegades in order to save the city.
This is a great friendship, team, bonding tale that I think anyone who loves YA will enjoy.
ABOUT THE BOOK:
A fresh take on a dystopian storyline, The Undoing is a page-turner with unforgettable characters and an intriguing plot that will keep you hooked from beginning to end. Fans of Divergent, The Amber Project, and Year One will love The Undoing
The Undoing is young adult dystopian literature at its best: a thoroughly engrossing story that will reach from young adult into adult audiences…follow a group of young people who increasingly realize how their ordered world really works…and have growing questions about its costs…Readers will find the first book in The Undoing Trilogy a complex story of social order and disorder, presenting a devastating plan that is attacked by a girl who always believed her strengths lay in another direction. YA dystopian fiction readers are in for a treat with The Undoing."- D. Donovan, Senior Reviewer, Midwest Book Review
In her 14 years, all Rebecca has known is life under the rigid structure of Anecor. She knows the rules. She knows how to play the game. Now everything she knows is about to change…
The Reckoning destroyed the United States of America. Survivors of the assault, led by the newly elected president, are now subject to his rules. The Vision controls nearly every aspect of life in the country now known as Anecor.
Rebecca and Jonathan grew up under the strict rules and watchful "eye" of SMALS, an AI system that monitors citizens' every move through phones and internal trackers. Those who don't follow the rules are disappeared.
Never to be seen again.
When a strange virus strikes the city of Montrose, the residents panic as more of their friends, family, and acquaintances are stricken. No one knows how the virus spreads and scientists have found no cure. There have been no survivors. When the virus strikes Jonathan, Rebecca's world turns upside down.
Jonathan reveals to Rebecca his suspicions about the virus and the discovery of a mysterious glow of purple light behind a nearby mountain. It is up to Rebecca to continue the work he started. It is up to her to unravel the mystery of the virus and the purple light. It is up to her to save her city.
Rebecca will have to risk everything, including her life, to keep her promise to Jonathan.
Her life is about to change. And so will the rules of the game.
And to succeed, it will mean joining in a perilous battle for the survival of Anecor.
Book review by Sheila English