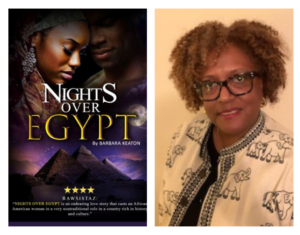 Nights Over Egypt by Barbara Keaton
(Reprinted with permission from Black Pearls Magazine)
Two people searching for the same thing …
Ashalon is a professor of Egyptology at Cairo University in Egypt and he is none too happy to learn that another American is coming to his country to conduct a dig among the ruins of his ancestors. He vows to make it difficult for this foreigner, who has been given permission by the Supreme Council of Antiquities … at least until he meets the American, Corina Camden.
Professor Camden is searching for mummified remains from the Twenty-first and Twenty-second dynasties and is hard pressed to hear her every move in Egypt would be supervised by some professor.
Corina and Ashalon are each surprised by their reaction to each other as they set across the blazing desert, captivated by their love of antiquities and unknown passions.
Nights Over Egypt is a story of archeological digs, rich culture and buried passions.
For years Corina Camden has been the baby everyone doted on and the geeky little girl of the family, with the exception of one night when she was transformed into a raving beauty to attend her high school prom. Her date was arranged by her older brother with plenty of threats and instructions. The date was magical a one for Corina considering the response she was getting from her classmates and her escort. She listens intently to him as he describes his Egyptian homeland and his desire to be an archeologist, echoing similar desires she herself has dreamed of doing.
Fast forward several years and Corina is all grown up and a well-known professor of archeology in the United States. She has been offered the chance to participate in an excavation in Egypt among the Royal Tombs of Tanis. The honor is one that hasn't been granted in ten years and will establish her as a serious Egyptologist. It is of little consequence Dr. Ashalon El Asab will be supervising the dig; she only hopes they can get along.
Upon meeting Dr. El Asab, they each get a vague feeling of familiarity. There is one thing for sure; they are both instantly attracted to each other. However, Corina recognizes a personal involvement could only lead to trouble, so she resolves to fight the feelings. Working in close proximity with fireworks looming in the background, the dig may result in more then ancient artifacts to secure.
NIGHTS OVER EGYPT is an endearing love story that casts an African American woman in a very nontraditional role in a country rich in history and culture. I was captivated by the obvious research Barbara Keaton put into this project and the vivid imagery she used to bring Egypt, its people and its heritage to life.
If I didn't know better, I would've thought Keaton herself was of Egyptian decent. Her character development was excellent with even the secondary characters showing budding potential for an additional story or two. This is definitely a must have for the romance enthusiast. —-Reviewed by Brenda M. Lisbon of The RAWSISTAZ Reviewers
Chapter Excerpt: Nights Over Egypt
Corina was embroiled in a conversation with a fellow black American, Eric Tate, a visiting professor of history at American University of Cairo, Department of Humanities, when a man, skin the color of burnt bronze and eyes a shade of opulent cognac, entered the room. She nearly choked on a sip of sweet wine she hadn't yet swallowed as she took in what she thought was the most gorgeous man she'd ever laid eyes on.
Dressed in black, his dark hair rested in abundant curls about his shoulders, she watched the stranger pause to speak to several people before his eyes met hers. She had never seen a brother so damn fine. Her back stiffened as he made his way to where she stood. Corina couldn't turn her eyes from his.
"Oh, oh. This is where I lose. Ashalon has made his grand entrance," Eric sighed.
"That's Professor Ashalon El Asab?" Corina's brown, doe eyes became large.
"The one and only. You haven't met him?"
Corina could only shake her head "no" as she watched Ashalon stroll leisurely across the room heading to where she stood next to Eric. As he neared, she thought there was something familiar about him, as if she had seen him somewhere before, but she couldn't place it. Besides, she reasoned, the more she thought about it, she knew the more it would bother her, so she opted to let the thought go for the moment and focus on the handsome man who had come to stand mere feet from her. He held out his right hand.
"I must say, you are not who I was expecting," Ashalon stated, then took Corina's hand in his and kissed the back of it. "Welcome to Egypt." He held her hand in his, his eyes focused upon hers. At the sound of Eric clearing his throat, he released her hand.
"How are you feeling, my friend? I hear you had a run in with a snake down in Tanis."
Without taking his eyes from Corina, Ashalon answered absently. "I am well. It was a scorpion. And you, Eric?"
"I'd be better had you not shown up," Eric chuckled ruefully, then noticed that neither one of them was paying him any attention.
"Dinner is served," a manservant announced.
Ashalon nodded toward the dining area. "It would be my pleasure if you would sit next to me during dinner."
Again, Corina could only nod. She willed her feet, clad in four-inch heels, to move as Ashalon led her into the dining room. She hardly remembered anything other than his large hand at the small of her back, which felt strangely hot, as her pulse raced unchecked.
She smiled politely as the thirty guests sat down. Several near her asked her questions about her work at the University in Chicago and her life in United States. Corina graciously answered each question, but couldn't seem to find her voice whenever she stole a glance into Ashalon's light, intense eyes. They seemed to burn a hole into her very being.
"If I may," Ashalon said. He took her glass and filled it with wine, his eyes never leaving hers.
Corina hadn't been speechless since high school and she found the very notion oddly annoying, so much so that she forced herself to avoid Ashalon's penetrating stare. She began to converse with a professor who sat to her right.
"Dr. Abou Sabh, I cannot thank you enough for adding your persuasion with the council to allow me to dig at the royal tombs of Tanis."
"Well, actually it was Dr. Jahwass and your Uncle David. Your uncle and I go way back to when he was an emissary in South Africa, and I was a visiting professor of Arabic Languages at the University there. So, when he told me about you, I knew we couldn't resist. Besides, not many black Americans are archaeologists. And none are as beautiful as you. We find this is an opportunity that should not, and could not, be passed up. Isn't that right, Dr. El Asab?"
Ashalon nodded. "And of course, Dr. Camden, if you need anything, please do not hesitate to ask," he said.
She watched his slow smile, the twinkle in his eyes, and absorbed his deep voice that was peppered with a slight Middle Eastern accent.
Corina lowered her eyes and returned her attention to Dr. Sabh. She frowned as Dr. Sabh began speaking in Arabic to Ashalon. She raised her right eyebrow.
"Dr. Sabh, it is quite inappropriate for you to whisper across me, but it is even more abominable and disrespectful for you to discuss my varying body parts in my presence."
Chastened, Dr. Sabh's tan skin went pale. "My full apologies. I didn't know."
Corina flashed Ashalon a pointed stare when he chuckled at the expression on his colleague's face. He quickly quieted as she turned her attention back to Dr. Sabh. "Sir, I speak fluent Arabic and Latin, and know enough Italian to not get lost. It would suit you, and our relationship, well if you would study my vitae a little closer." She spoke in Arabic, before slipping into Italian with a few choice words of her own.
"Well said," Ashalon whispered in her ear. She felt his warm breath float across her neck. "You called him a pompous, raggedy ass, and he hasn't a clue." Corina shivered from the sweet smell of his breath and the heat of his closeness. "Are you cold?" he asked as she felt his hand brush lightly across her back.
( Continued… )
About the Author
Chicago native, Barbara Keaton loves the city and says she cannot imagine living anywhere else. Educated in Catholic schools up until 12th grade, Barbara credits the Oblate Sisters of Providence, the oldest order of black nuns, and her late maternal grandfather, Thomas Hill for her love and respect for the written word.
Barbara's first romance novel, All I Ask, was published in 2000. Since then she's gone on to write a total of thirteen romance novels which celebrate black love. In addition to her books, she's also written several articles and editorials that have appeared in various publications: Today's Black Woman Magazine; The Chicago Crusader; The Chicago Defender; The Chicago Reader; Bronze Thrills; True Confessions; and, Affaire de Coeur.
Barbara holds an MS in Journalism from Roosevelt University and belongs to several civic and professional organizations, namely Delta Sigma Theta Sorority, Inc. In her spare time, she's an avid reader and writer.
Married to a minister, Barbara has no children of her own, but she considers her niece and nephew, Stephanie and Matthew, and her stepdaughter, Candice, her "babies." In addition, she's a grandma and a great-aunt. Barbara lives by a personal credo: I ANSWER TO TWO—MY GOD AND MYSELF!
Website: BarbaraKeaton.net
Twitter: https://twitter.com/BarbaraKeaton26
Instagram: https://www.instagram.com/barbarakeatonstubblefield
Facebook Fanpage: https://www.facebook.com/Barbara-Keaton-582585395172168
Crown Holders: http://crownholderstransmedia.com/book-author/barbara-keaton/