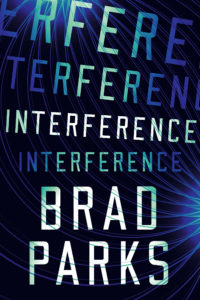 Bestselling author Brad Parks has dazzled readers all over the world with his nine superb thrillers, ratcheting up the tension and suspense from each book's very first page. He's set his stories in the worlds of newspaper reporting, the federal courts, the foster care system, organized crime—all meticulously researched due to his previous experience as a journalist for the Washington Post and the Newark Star Ledger. Parks, the only author to win the Shamus, Nero and Lefty Awards, has received wide critical acclaim for his books, including such praise as "a roller-coaster plot that serves up endless surprises" (Washington Post), the "prose is hypnotic, the emotions genuine, the characters warm and alive" (Booklist), "irresistible" (Kirkus), and "so riveting that it pulls you even deeper into the thrilling imagination and amazing writing of the talented Brad Parks" (Suspense magazine).
His tenth thriller, INTERFERENCE, which Thomas & Mercer will publish on September 1, 2020, is the result of his lifelong fascination with the study of matter and energy and how they interact with each other. It's a novel that explores the intersection of science and the unexplainable through the minds and eyes of flawed, relatable, very human characters.
Brigid Bronik is worried about her husband Matt, a quantum physicist at Dartmouth College. He's excited about some groundbreaking, secret research he's undertaken, but at the same time, he's been suffering from bizarre, violent seizures that have no medical explanation. He thinks they're unrelated to his work, but acknowledges he doesn't fully understand the potential dangers of pushing certain quantum boundaries. In the midst of another seizure at the lab, Matt disappears, and all clues indicate that he's been abducted. Suspects abound—jealous colleagues, Chinese competitors, an unscrupulous billionaire, and even the Department of Defense. Brigid, who has otosclerosis, which is gradual but almost complete hearing loss, won't let her physical challenges get in the way of finding out what happened to her husband. And she soon comes to realize the very science that was making her husband sick may also be the key to his salvation.
Quantum entanglement. Mutated viruses. Medically inexplicable seizures. Science is one of the stars of INTERFERENCE, and Parks skillfully turns complex scientific concepts into grounded, understandable, and even thrilling aspects of this storyline that will enthrall readers.
ON TUESDAY SEPT 2ND, WE HOST MR. PARKS FOR A Q&A – DON'T MISS IT!!!
About the Author: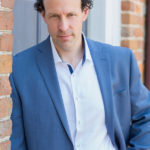 International bestselling author Brad Parks is the only writer to have won the Shamus, Nero, and Lefty Awards, three of American crime fiction's most prestigious prizes. His novels have been translated into 15 languages and have won critical acclaim across the globe, including stars from every major pre-publication review outlet. A graduate of Dartmouth College, Parks is a former journalist with The Washington Post and The (Newark, N.J.) Star-Ledger. He is now a full-time novelist living in Virginia with his wife and two school-aged children.