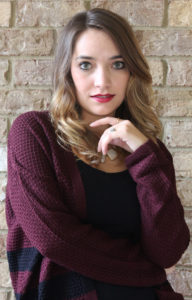 Welcome Rachelle Dekker, we're very excited to have you on Reader's Entertainment. Let's start with learning a bit about you.  Where you're from, where you live? Is writing your full-time job?
Hello everyone! I currently live in Nashville, TN with my husband and 20-month-old son Jack. Writing is my full-time gig!
How long have you been writing?
I wrote my first novel when I was 12, but professionally I've been writing since 2012.
Give readers a look at a typical writing day.
I have an in-home office and find it best for me to stick to a typical workday schedule. So, coffee in hand, I usually start between 8:30 to 9 am and work till 4pm. I've tried writing at night, and I am terrible at it. I find I'm most productive if I start the day with writing.
Tell us about your latest release? Where the idea came from? Perhaps some fun moments, or not so fun moments?
My newest novel, Nine works through the idea of identity according to our pasts. Do I have to be what the world says because of where I come from, or because of the history associated with my life? Or can I change my story and be someone different?
It's a chase novel, so high suspense. It was the first time I had written this type of story, and I really had a killer time. I played with memory loss, FBI suspicion, haunting pasts, and twisted government secrets in a fast-paced storyline. I sought out to really just have as much funs as possible, and I achieved it.
Could you share one detail from your current release with readers that they might not find in the book? Perhaps a juicy bit of back-story, or something only you know about a character.
Zoe, our protagonist, has a twisted history with the foster care system, and in the story of Nine we get to interact with one character from that past: Tomac. There's a lot about their story that doesn't make it into the novel, so I'll say only that at one point their friendship was romantic and toxic. It's part of the reason Zoe has such a hard time fully trusting him.
If you could be one of your characters for a day which character would it be? Why?
Lucy for sure – but I can't tell you why because that might ruin the novel. Let's just say she's has some pretty awesome talents that I would like to have.
Do you have a secret talent readers would be surprised by?
I'm not sure it's a secret talent, but I LOVE home décor. Shaping a space to feel warm and welcoming is something I have an eye for and really enjoy doing.
Your favorite go to drink or food when the world goes crazy!
Nachos! Nachos! Nachos! With a good, icy Margarita. Every time!
Thank you so much for joining us today, Rachelle!!
Take a look at Rachelle's latest release — NINE
In her newest novel, Nine, Christy Award–winning author Rachelle Dekker weaves an action-packed story about identity, which encourages readers to ponder, Are we who the world says we are? Or can we change our story and be something more?
What happens when a young woman wanting to escape her past collides with a girl trying to escape her future? Zoe Johnson's dark memories have impacted her whole life. She lives in the shadows, terrified to share her secrets and avoiding others as much as much as possible. But everything changes when a young teenager stumbles into her life.
Against her better judgment, Zoe determines she will help Lucy. As the mysteries revolving around Lucy's dangerous past begin to emerge, they find they must work together to escape government agents who seem desperate to apprehend Lucy at all costs. But in order to save Lucy, Zoe must first confront her own demons. Can they abandon it all—secrets, past, and future—for the freedom they've been offered?
Rachelle Dekker throws readers into the middle of a wild ride of suspense and keeps the pressure on in this page-turning novel.
Some secrets can't stay hidden
You can purchase NINE at:
Baker Publishing
ABOUT THE AUTHOR:
Rachelle Dekker is the Christy Award–winning author of The Choosing, The Calling, and The Returning in the Seer series. The oldest daughter of New York Times bestselling author Ted Dekker and coauthor with him of The Girl behind the Red Rope, Rachelle was inspired early on to discover truth through the avenue of storytelling. She writes full-time from her home in Nashville, where she lives with her husband, Daniel, and their son, Jack. Connect with Rachelle at www.rachelledekker.com.
https://www.rachelledekker.com/
https://www.facebook.com/rachelledekkerauthor
https://twitter.com/rachelledekker
https://www.instagram.com/rachelle_dekker/