Behind the Words with author Tari Faris
Hi Tari, welcome to Reader's Entertainment. First, tell our readers a bit about yourself.
I have been married to my wonderful husband for almost eighteen years. We have three kids, ages 16, 13, and 11. My favorite thing to do is to spend time with my family. From camping to movie night, I just love spending time together and laughing together.
Where you're from, where you live? 
I grew up in a small town in Michigan, which is where my inspiration for the town of Heritage came from. But now I live in Gilbert, Arizona, which is the south east side of the Phoenix area. Although I have learned to appreciate certain aspects of the desert and city life, my heart is still in a small town in Michigan. I try to visit my parents there every summer to get a break from the heat and enjoy the charm of my small town where you can't run to the store without running into at least three people you know.
Is writing your full-time job?
I definitely put about that many hours in, but I also work for Susan May Warren at My Book Therapy helping teach aspiring novelists part-time. My Book Therapy was really where I learned the skills to not only get published but to succeed as an author. So, when I had the opportunity to come on staff, I jumped on it. Between writing and teaching my three kids and my husband fill up the rest of my schedule.
How long have you been writing?
I started writing about fifteen years ago, but didn't start pursuing publication until about nine years ago.
Give readers a look at a typical writing day.
Before this spring, my typical writing day was to start writing when my kids left for school until noon then move into my part-time work for My Book Therapy. However, with the kids being home more because of Covid-19, that all changed. I will admit that I have struggled to find alone time to write because all the changes meant I always had a full house. Not to mention that my husband was sharing my office space to work from home as well. So, my typical writing day these days is to squeeze in words whenever I can find a few quiet moments.
Tell us about your latest release? 
Now that Heritage has won the grant money, they have decided to spend it. They hire Austin Williams to finish landscaping the center square, and they hire Libby Kingsley as the new librarian to reopen the library. But when Libby's ideas for the library create problems for plans Austin has for the square, the two will either have to learn to work together or chance destroying their careers.
Where the idea came from? 
I fell in love with Pastor Nate with his prodigal son back story in the first novel, but didn't know what I wanted to do with him. The more I dove into his character, the more I knew that the story I really wanted to tell was that of his brother Austin, who was still trying to make a go at the family landscaping business that was damaged when Nate left on his prodigal journey. In the first book, I also grew to adore the timid Libby. My heart ached for the burden she still felt for Luke disappearance, and I knew she was a perfect fit to smooth off a few of the rough edges of stubborn Austin.
Who has been the most difficult character for you to write? Why?
I think Austin was the most challenging. Everyone loves pastor Nate from You Belong with Me, so to write a character that is angry and in conflict with Pastor Nate from the first page without making him unlikable was a huge challenge. I had to try to help the reader understand Austin's anger from the start and yet not make the audience dislike Nate. I wrote and re-wrote the opening scenes to get that balance of understanding both sides, hurting with both sides, and rooting for both sides.
If you could be one of your characters for a day which character would it be? Why?
I guess Libby. I mean the girl is a librarian and gets to spend the day with books. Need I say more?
All writers are readers. Are there any particular authors that have influenced how you write and, if so, how have they influenced you?
Susan May Warren has been my biggest influence as a writer. Her approach using her Story Equation has transformed my writing and deepened my characters. But even more than just her technical approach, Susie has influenced my writing in the way she is determined to continue to grow as author with every book. She is always reading, always learning and striving to make each story better than the last. I admire that and have taken on that as goal too.
Do you have a secret talent readers would be surprised by?
I love to sew. I don't do it much anymore because it can also be time-consuming, and these days I just can't fit it in. But there have been many years that I have gone all-out when making my children elaborate Halloween costumes. I have always loved playing pretend and sewing the make-believe world was just another way for me to dip in to fantasy.
Your favorite go to drink or food when the world goes crazy!
Coffee is a given. But that isn't just when life is crazy. It is a daily necessity. So I will say ruby-red grapefruit juice. I know that isn't very exciting, but I love the tang and for some reason I always feel like drinking it. It's a small escape from reality when I need a break.
Did you always want to be a writer?
No. I was never very good at English or grammar because of dyslexia. But as long as I can remember, I have been creating stories in my head. It wasn't until I grew in confidence as an adult that I started writing the stories down. And I found that when I wrote them down, they came even more alive. Eventually, I learned how to use my computer and writing to help me work with my dyslexia and not against it, and the rest is history. Never let what others see as weaknesses, hold you back from your dreams.
Thank you so much for joining us today, Tari. 
Be sure to check out Tari's latest release UNTIL I MET YOU…….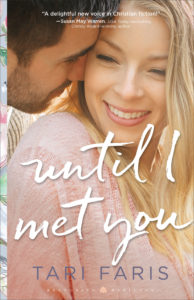 Welcome back to Heritage, Michigan—the small town with a big heart
When she hears that the town of Heritage is looking for a new librarian, Libby Kingsley jumps at the opportunity. Little did she know the library is barely more than a basement room stuffed with dusty, outdated books. What the community really needs is a new building. But the only funds available are those being channeled into the new town square, and the landscape architect in charge of the project wants nothing to do with her plans.
All Austin Williams wants to do is get the town square project finished, and he hopes it is enough to save the family business. Then he can extricate himself from the town that reveres the brother who cost him so much. But the local media and the town's new librarian seem to be conspiring against him at every turn. Will the determined bookworm find her way into his blueprints—and possibly even his heart?
YOU CAN PURCHASE UNTIL I MET YOU AT:
BAKER PUBLISHING
"I loved this story! Tari Faris has upped her game in this sophomore book with her writing, her characterization, and especially the theme of family reconciliation. You'll love it too!"—
Susan May Warren, USA Today bestselling author
"The right mixture of romance, humor, and realistic conflict. There's no overlooking how Faris makes you laugh with her lighthearted, fun scenes, but she doesn't back away from tough issues."—Beth K. Vogt, Christy Award–winning author of the Thatcher Sisters series
ABOUT THE AUTHOR:
Tari Faris is the author of You Belong with Me. A member of American Christian Fiction Writers and My Book Therapy, she is the projects manager for My Book Therapy, writes for learnhowtowriteanovel.com, and is a 2017 Genesis Award winner. She has an MDiv from Asbury Theological Seminary and lives in the Phoenix area with her husband and their three children. Although she lives in the Southwest now, she lived in a small town in Michigan for twenty-five years.
Find out more about Tari and her books at:
https://www.bookbub.com/authors/tari-faris
https://www.facebook.com/tari.faris.author/
https://www.instagram.com/tarifarisauthor/
https://www.pinterest.com/tarifaris/