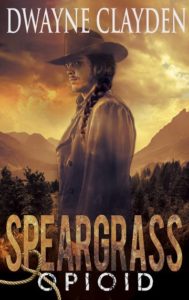 SPEARGRASS OPIOID BY DWAYNE CLAYDEN
The new tribal sheriff of Speargrass, Montana, is ex-rodeo champion, Franklyn Eaglechild, a man plagued with injuries from the past. His damaged health leaves him with a dim future of lost dreams. While coping with his personal defeats, Franklyn quickly discovers not everyone in Speargrass is thrilled to have a new sheriff in town looking into their business.
Franklyn soon makes enemies in high places. Friends are scarce but lucky for Franklyn, he has at least one friend he can rely on—his adopted brother and DEA Special Agent, Riley Briggs in Great Falls.
As an opioid crisis spirals out of control around Great Falls and Speargrass, Franklyn and Riley realize they need to join forces if there is any hope of putting an end to the destruction.
ABOUT THE AUTHOR: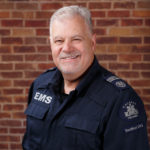 Dwayne Clayden writes crime thrillers. Dwayne was born and raised in Calgary, and resides in Bowness. Crisis Point, Dwayne's first novel, was a finalist for the 2015 Crime Writers of Canada, Arthur Ellis Awards.   
Speargrass Opioid is the newest novel by Dwayne and it symbolizes a new direction of writing for him.
In his 40-year career, Dwayne has served as a Calgary Police Officer, Calgary Paramedic, tactical paramedic, firefighter, emergency medical services (EMS) chief, educator, and Academic Chair at SAIT. Dwayne is a popular speaker at conferences and to writing groups presenting on realistic police, medical and paramedic procedures.
The co-author of four paramedic textbooks, he has spoken internationally at EMS conferences for the past three decades.   More information can be found about Dwayne at:  DwayneClayden.com and at Amazon: https://www.amazon.com/Dwayne-E.-Clayden/e/B0034PT4RI
Dwayne is available for interviews, media appearances, speaking engagements, and/or book review requests – please contact mickey.creativeedge@gmail.com by email or by phone at 403.464.6925.