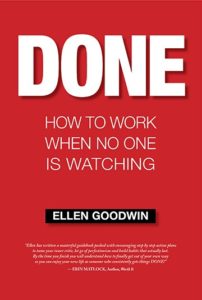 Ellen Goodwin is a Productivity Trainer, TEDx speaker, and author who uses neuroscience-based principles to enable individuals and businesses to overcome all types of procrastination, build stronger habits, and be more focused so that they can be more efficient and effective with their time. Ellen believes that when it comes to productivity, there is no one-size-fits-all solution, which is why she advocates for experimentation to find the tools and techniques which will work seamlessly with your life and your business, no matter what you want to accomplish.
Through the course of a successful career as an advertising creative, Ellen learned the elusive secrets to getting things done when no one is watching. She now shares this information through speaking engagements, corporate seminars, consulting, and writing. Ellen lives in San Diego is the co-host of The Faster, Easier, Better Show podcast.
You can find her on her website where you can also sign up for her weekly newsletter.
Reach out to her on Facebook, Twitter, and Amazon.
Her book, How to Work When No One is Watching is out now.