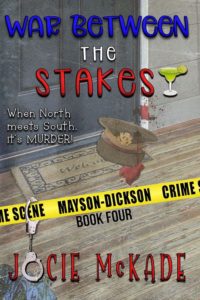 LISTEN HERE!! 
Jocie worked at several jobs before landing her ideal one as a librarian, a perfect segue to becoming an author. 
With a soft spot for U.S. Veterans, she chaired her local Veteran's Oral History Project, and her work with the program lead to her speaking before the project committee at the U.S. Library of Congress. She has won several awards for her non-fiction writing on a multitude of subjects. 
Her fiction writing has received the Author / Ambassador at Library Journal Self-e Authors, Winner Queen of the West Reader Favorite Award, Amazon Bestseller – Historical, Double finalist in the Next Generation Indie Book Awards in the Mystery and Humorous Categories, and her novel Baer Truth received 4.5 stars from RT Book Reviews.
Writing humorous cozy fiction, and romantic comedy, Jocie can find humor in most everything, even when she shouldn't. She lives in the Midwest on Dust Bunny Farm with her family. When not writing, she grows ArnoldSwartzaWeeds in her garden and RVs whenever the opportunity presents itself.
REPOSTED WITH PERMISSION FROM KRISTINE RAYMOND'S WORDPLAY PODCAST
WEBSITE
www.jociemckade.com
GOODREADS
https://www.goodreads.com/goodreadscomjociemckade
BOOKBUB
https://www.bookbub.com/search?search=jocie+mckade