Candle Making Business 2021: How to Start, Grow and Run Your Own Profitable Home Based Candle Startup Step by Step in as Little as 30 Days With the Most Up-To-Date Information
By Clement Harrison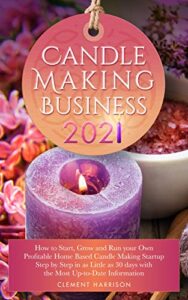 I give this book 5 out of 5 Stars
This is such a well-organized and professional book. It starts with all the basic questions you should be asking yourself or thinking about before you start a business. Do you even want to take your love of candle making to that level? How is it different to change from hobby to business?
This takes you through easy-to-follow steps so you can make good decisions and attain goals. This can help your dream become a reality!
This book is great for people who love to make candles as a hobby or as gifts but wonder if it's worth trying to make a business out of it!
ABOUT:
The thriving hobby-turned-business idea hidden in plain sight.
About 70% of US households use candles.
Just stop and think about the size of that market for a second.
If you're a home candle maker, you could be sitting on a gold mine you haven't yet unearthed.
There are candles for just about every market you can imagine: novelty candles for gifts; aromatherapy candles for relaxation; household candles for practical lighting; elegant tapers for fancy dinners; floating candles to create ambiance… the list is endless.
But then, you already know that.
The problem most candle makers face is not how to make candles: there are hundreds of books out there for that.
The problem is how to turn those candles into a lucrative income stream.
The problem is figuring out how to continue to do what you love while selling hand-crafted candles that you can guarantee are safe and high quality. Every. Single. Time.
That means you need up-to-date information on licensing, legal requirements and setting up the business side of things when what you're really passionate about is making candles.
In Candle Making Business 2021, you'll find everything you need to turn your passion into a successful startup. You'll discover:
The psychological leap you need to make in order to turn your hobby into a rewarding business
A step-by-step overview of the different types of candles so you can be sure you're always on the right track
A detailed look at wax and wicks with the view to creating product consistency
The #1 mistake most home candle-makers make, and how to avoid it (hint: 'candles' is a big niche!)
Why Yankee Candleis one of the most successful candle making companies in the world, and how you can mirror their success
Why 'burn time' matters in the grand scheme of your business
The secret to running a successful businesswhen the idea of 'business' makes you want to cry
How successful marketing will help you speak to the demographic that will buy 90% of your candles (and how to do it well)
Up-to-date informationon everything you need to know about licensing, legalities and safety laws
And much more.
If you know your candles are good enough to sell but you haven't got the faintest idea of how to get started, you don't need a business guide, and you don't need a candle making book.
You need to know the business information that's relevant to your candles, and you need to know how to use it.
The candle market is a hugely lucrative niche, and there's a place for you within it.
You simply need to find that place and learn how to make your candles stand out from the crowd, safe in the knowledge that you can guarantee product consistency and a quality that rivals the most successful sellers in the field.
Your candles already shine. Discover how you can make sure everyone else knows that as well.
If you're ready to take your candle making to the next level and turn your passion into a goldmine, then scroll up and click "Add to Cart" right now.
Reviewed by: Sheila English