This title is misleading and loses half a point for it. But, it does do what it says it will.
Summary of Midnight Sun By Stephanie Meyer OMNI READS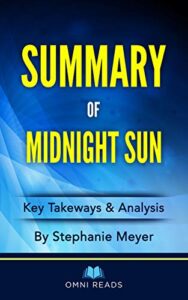 I give this a generous 3.5 Stars out of 5
At first, I thought the title meant Stephanie Meyers had participated in writing this book. She did not. It is written by a "team" of people.
If you read Twilight you already know what is being told to you in this book plus a little bit about where Edward went the first time he left school after meeting Bella. That part was interesting. There's a little more with his specific POV, but it's just the same story. Not a lot new that I can tell.
The summary does take a variety of different angles looking at the story and breaks it down fairly well.
I'm not sure why you wouldn't just read Midnight Sun, the novel, but maybe you have a homework assignment and this is a resource? Thus the 3.5 rating.
ABOUT:
SUMMARY AND ANALYSIS OF:
Midnight Sun by Stephanie Meyer
This is not intended to replace the original book, but to serve as a companion to it and provide you, our loyal readers, with an enhanced reading experience.
The Summary and Analysis books by OMNI READS is a great way to capitalize your time as they reveal the golden nuggets from each chapter in a succinct way.  Though we always recommend you read the original book, the OMNI READS collection is a powerful tool to keep in your arsenal as our is to keep you knowledgeable about the past, present and potentially future trending best sellers.
ABOUT THE BOOK:
Stephenie Meyer returns to the iconic romance between Edward Cullen and Bella Swan that made Twilight a pop culture phenomenon, this time from Edward's point of view. Through his eyes, the eyes of a century-old vampire, we experience a tumultuous love that blooms in the face of adversity: for before he can love anyone, Edward has to tame the bloodlust that turns him into a monster.
Experience a different kind of sweet agony as Edward has to navigate the world of the mortals: a fragile world full of delicate individuals which, however, can still be threatening even to a creature of myth and power.
Can the lion fall in love with the lamb? And if that happens, how can there be nothing but tragedy in both their future? Edward's journey as he meets Bella and struggles to overpower his predatory nature seeks to answer exactly that.
Includes:
Summary of Midnight Sun
The Setting of the Story
Story Plot Analysis
Main and Secondary Character List
Chapter by Chapter Analysis (29 in total)
Analysis of Key Characters
Major Symbols
Motifs
Themes
Thought-Provoking Discussion Questions
And much more
Why should you buy this Summary and Analysis Book?
OMNI READS elevates the quality and productivity of our readers both personally with enriching novels and professionally with the non-fiction range.
Though these are summary books, our aim is to be comprehensive to a certain extent, yet entertaining so the overall story is impactful.
Most importantly, we want to add value by saving you time but still leaving you enriched.
Book reviewed by: Sheila English