This is a hit or miss book for a lot of people. It's happy but predictable.
Tempting Her Best Friend By Gina L Maxwell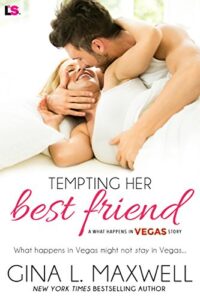 I give this 4 stars out of 5
The writing is good and it has a strong start. Alyssa would love to see her friendship with Dillon morph into something romantic. They're great friends and with that comes the fear of changing that already wonderful relationship.
The story changes POV between her and him which I do like.
Once they get to Vegas though, the heroine starts to question those really strong feelings and the story does feel a little contrived at this point.
But, you do get a happy ever after as romance novels promise and you are happy when they get it all figured out.
ABOUT:
Alyssa Miller is tired of waiting for her next-door neighbor to see her as more than just his best friend. Ready to let off some steam, she heads to Las Vegas for a romance book convention where, if she's lucky, she'll get down and dirty with one of the sexy cover models.
Dillon Alexander doesn't do commitment-especially not where his best friend is concerned. She deserves a man who can give her the world, not damaged goods. But when he realizes Alyssa intends to have a one-night stand on her vacation, he hauls ass after her to make sure he's the one to scratch her itch.
Neither of them expects their explosive chemistry to burn hotter than the lights on the strip, but with a little help from Elvis, Marilyn Monroe, a flamboyant matchmaker, and TSA, what happens in Vegas might not stay in Vegas…
Book reviewed by: Sheila English