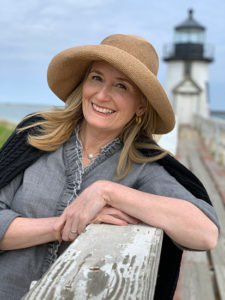 BEHIND THE WORDS WITH AUTHOR CHRISTIN BRECHER
Hi Christin, welcome to Reader's Entertainment. Tell our readers a bit about yourself, where you're from, where you live? Is writing your full-time job?
Hi! And thanks for inviting me to talk about my newest book, 15 Minutes of Flame.
I was born, raised and still reside in New York City, a perfect place to stir the imagination. For example, just today, while walking our dog Bandit, I passed a really nice sofa that someone had put out for trash.  I wondered who had owned it and what had made them decide to get rid of it?  Before I reached the corner, a dented car pulled up and a young couple hopped out and began to load it into their trunk, which had me thinking about them and this sofa's next adventure. I love a City where you can enjoy this kind of energy.
I also have spent time living in London, Texas and California. The idea to write the Nantucket Candle Maker Mysteries, however, sprang from my life-long connection to Nantucket, a small, foggy island off the coast of Massachusetts, which is marked by its history in whaling and candle-making, its beautiful shingled houses and cobblestones, and its strong community.
How long have you been writing?
I started writing when my kids were little and we were living in London for a time.  The pace of life was slower, sort of freeing, so I decided to try something which would challenge me in new ways.  In no time, writing became my passion. It led me to the discovery of characters and plot twists, breathtaking libraries, and new friends.  My favorite spot to write was a small library at the Victoria & Albert Museum, which, come to think of it, would be a great setting for a cozy mystery!
Give readers a look at a typical writing day.
My writing days change at different stages of each book.  Early on, I might go for really long walks to get my imagination going.  I may not type a word, but it's a writing day.  Once I land on a story I like, I spend a few hours a day fleshing out the narrative through outlines and research.  Sometimes I like to write in neighborhood cafes or libraries where I know I will see friends during the day.  When I've finally finished a first draft, I disappear into my home for days on end.  I lose track of time as I tie up loose ends, find holes to fill, and discover untapped potential in my characters or story.  There are parts of each stage I really enjoy, so I always know I have something to look forward to in the process.
Tell us about your latest release? Where the idea came from? Perhaps some fun moments, or not so fun moments?
I love 15 Minutes of Flame because it captures Stella's modern life in Nantucket while also tapping into the island's past.  The story honors the zeitgeist of women who ran the island during its heyday, when the men were gone for months or even years at a time to hunt whales.  Left on island, the women ran businesses, became elected officials, managed their homes, and bank books.  If you are interested in learning more about these strong, smart ladies, I very much enjoyed reading Sometimes Think of Me:  Notable Nantucket Women Through the Centuries by Betsy Tyler & Susan Boardman.
Could you share one detail from your current release with readers that they might not find in the book? Perhaps a juicy bit of back-story, or something only you know about a character.
Ooh, fun!  Well, much of 15 Minutes of Flame takes place at an historic house, owned by a friend of Stella's who lives off-island.  The house is fictional, but I based it on a home a friend of mine purchased and renovated a few years ago on Hussy Street.  While updating the structure, the contractors discovered a very old sign over the kitchen hearth, similar to the one Stella discovers in the book.  This one, however, promoted eggs for sale rather than the candle sales which excite Stella in her story.  Apparently, the original owners had sold their eggs from their kitchen.  The builders also discovered two very old cisterns buried out back, along with many other surprises from the past.  These discoveries inspired many elements in the book, as you will see!
If you could be one of your characters for a day which character would it be? Why?
I adore a character in the Nantucket Candle Maker Mysteries named Cherry Waddle.  She popped up out of nowhere when I was writing the first book, Murder's No Votive Confidence, and in each consecutive story I give her more to do.  Cherry is one of the Candleers, a group of Stella Wright's most loyal candle students.  She and her crafty pals are of an older generation, but Cherry is very young at heart.  In fact, she's often the first to tout the advantages of social media, which keeps her connected to her grandchildren. She never lets age get in the way of living, and believes that staying busy keeps her young.  At this point in the series, she now works as a sale associate in Stella's store, the Wick & Flame.  I am drawn to Cherry because, like a good cozy female character, she jumps in when someone needs her with a warm and courageous manner.
All writers are readers. Are there any particular authors that have influenced how you write and, if so, how have they influenced you?
I love this question.  When I decided to start writing, I actually began by reading from a writer's perspective.  I was in London, so I started with Agatha Christie, but my reading journey took unexpected twists and turns for about three months.  I read mystery, comedy, farce, classics – mostly by British writers, but not exclusively.  I read with an eye for pace, dialogue, character development, and all of the magic that goes into telling a good story.  I now work with a couple of authors, and I love reading their works-in-progress.  Like mystery sleuths ourselves, we roll up our sleeves to figure out what is working and what isn't so that the novel comes to life.
Do you have a secret talent readers would be surprised by?
Since March, I've learned to sew.  I was on Nantucket Island when Covid hit, and Nantucket, Let's Get Sewing! put out a call for materials and sewers to make face masks.  I spent a night cutting fabric to donate.  I showed up the next day to drop off my contributions, and was surprised when the woman on deck handed me an old sewing machine and suggested I give it a try.  It took me several, humbling attempts to get the hang of it (I had a lot of bobbin-threading setbacks), but eventually I was making masks!  I also now feel vindicated that all of the swatches of fabric I've kept in shopping bags for years finally came in handy.
Your favorite go to drink or food when the world goes crazy!
Lately, I've been a fan of the following afternoon snack:  A lightly salted rice cake, topped with pesto, crumbled goat cheese and a dash of balsamic glaze.  It's very satisfying and keeps me going until dinner.  This little treat is also so pretty, I feel like I'm giving myself a present!
Here's a look at Christin' latest release 15 MINUTES OF FLAME
As Stella Wright's Nantucket candle store thrives, her knack for solving mysteries burns equally bright—especially when a Halloween haunted house uncovers evidence of a centuries-old murder…
When Stella's friend inherits a creaky, abandoned home in Nantucket, she knows it's the perfect setting for the town's annual Halloween fundraiser. A deserted, boarded-up building on the property—once used as a candle-making shop—adds to the creepy ambiance. But as Stella explores the shack's dilapidated walls, she discovers a terrible secret: the skeleton of a Quaker woman, wrapped in blood-soaked clothing and hidden deep within a stone hearth . . .
While police investigate, Stella wastes no time asking for help from friends with long ties to Nantucket's intricate history. The key to the murder may lie within a scorching 18th century love triangle that pit two best friends against one another over a dubious man. But before the case is solved, another life will be claimed—leaving Stella to wonder who in Nantucket is friend, and who is foe.
YOU CAN PURCHASE —  15 MINUTES OF FLAME AT:
AMAZON: https://amzn.to/36W7iLS
B&N: http://bit.ly/37OxUj6
KOBO: http://bit.ly/2OlWwYH
Google Play: http://bit.ly/31i26Aw
BAM: http://bit.ly/2Oj63zy
INDIEBOUND: http://bit.ly/2vKyoIT
ABOUT THE AUTHOR:
The publication of Murder's No Votive Confidence and Murder Makes Scents has been incredibly exciting. In addition to spending my days crafting stories, I've enjoyed getting to know the readers of the Nantucket Candle Maker Mysteries through book events and social media—check out my events page for photos of all the fun! We've had a great time talking about Stella Wright, Nantucket, and mysteries. Thanks, all, for making my series' debut so much fun.
Learn more about Christin and her books at: