Whether it's novels or comics and whether it's Netflix or Hulu these are some edgy, scary and unique shows you may want to check out to get you into the Halloween spirit!
In no particular order-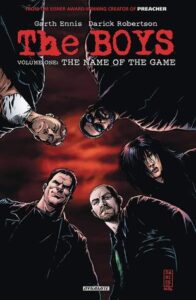 #1 – The Boys is a comic series made into a weekly show on Amazon Prime. It's a drama/superhero genre.
About the Comic Series –
The Boys – Comic series written by Garth Ennis and illustrated by Darick Robertson. Published by Wildstorm/DC Comics then moved to Dynamite Entertainment.
The comic, like the show, pushes the envelope on violence and sexual content. It was dropped by DC Comics because of this, but picked up by Dynamite Entertainment.
About the Show –
The show can be seen on Amazon Prime. A new episode releases each week, but you can binge all of Season 1 and Season 2 now! Never heard of it? Check out the official trailer-
MY THOUGHTS–
I love the show. Then again, I have a high tolerance for excessive violence that is both shocking and gory. The sex isn't as graphic as many other shows of this genre, but they certainly don't shy away from it.
The show gets high marks for being unpredictable in a good way. Yes, it's shocking. No, you just don't know who may die. It's clever and creative and the only other show I've seen that comes close to it is called Preacher which is published by Vertigo, an imprint of DC.
The storyline is simple. Superheroes who are commercialized, many of whom are total assholes. Hughie and Butcher are normal humans who see the seedy and dark underbelly of the "Supes" and what they do and they fight it.
Slight Spoiler– The first season opens with a shocking scene to let you know what you're in for right away. Hughie's love, his soul mate, a wonderful girl that you like immediately, comes to visit him at work. As he walks her out and they say goodbye on the sidewalk she appears to completely explode, only her hands still intact and held in Hughie's. It comes out of nowhere. You're not sure you can process what you just saw. Low and behold, one of the 7 (the main core of superheroes are called The Seven) got wasted on drugs and wasn't paying attention. He's the equivalent to The Flash and is a speedster. He ran through her. Yep, ran right through her, smearing her all over the street. And this is the start.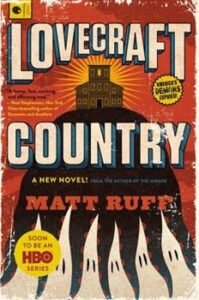 #2- Lovecraft Country is a novel by author Matt Ruff turned into a show series on HBO. The genre would be horror/drama.
About the Book (From the Author's Website)-
By author Matt Ruff. This novel is a NY Times bestseller that's won numerous awards.
Read a preview excerpt of the novel (in PDF format)
A novel of Jim Crow America that melds historical fiction, pulp noir, and Lovecraftian horror and fantasy.
Chicago, 1954. When his father goes missing, twenty-two-year-old Army veteran Atticus Turner embarks on a road trip to New England to find him, accompanied by his uncle George—publisher of The Safe Negro Travel Guide—and his childhood friend Letitia. On their journey to the manor of Samuel Braithwhite—heir to the estate that owned one of Atticus's ancestors—they encounter both the mundane terrors of white America and malevolent spirits that seem straight out of the weird tales George devours.
Atticus discovers his father in chains, held prisoner by a secret cabal, the Order of the Ancient Dawn—led by Braithwhite and his son Caleb—which has gathered to perform a ritual that shockingly centers on Atticus. And his one hope of salvation may be the seed of his—and the whole Turner clan's—destruction.
A chimerical blend of magic, power, hope, and freedom that stretches across time, touching diverse members of two black families, Lovecraft Country is a devastating kaleidoscopic portrait of racism—the terrifying specter that still haunts us today.
About the Show–
Lovecraft Country is episodic and a new show airs each Sunday night. Or, you can wait and binge it when it completes. https://www.hbo.com/lovecraft-country
Watch the official-
MY THOUGHTS–
Combining the civil rights movements, Jim Crow era and Black America issues of the time with Lovecraft may make you wonder which way the horror will go.
I love paranormal. I love Lovecraft stories. I love history. I love learning things I didn't know. I think this is one of the most clever, creative and amazing things on television/streaming. It is just the right amount of everything.
The acting is so good in this and the writing is so original. I strongly recommend that you run, not walk, to Lovecraft Country as soon as possible!
Slight Spoiler–
There are some witchcraft and monsters and bigots and assholes and sometimes you just can't tell them apart. One of my favorite episodes, and I like them all, has to do with the heroine's sister. She wakes up in the body of a white woman and experiences life as a white woman, but with the sensibilities of someone who understands just how screwed up, it is that she's treated so much better now. But, it isn't a simple body jump, oh no, that's not the Lovecraft Country way. It's far more complex and a little disgusting.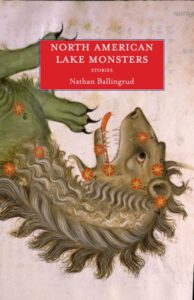 #3 – Monsterland is based off a short story collection by Nathan Ballingrud called North American Lake Monsters and is a HULU series created by Mary Laws. The genre would be considered horror.
About the Book (from the author's website)-
Nathan Ballingrud's Shirley Jackson Award winning debut collection is a shattering and luminous experience not to be missed by those who love to explore the darker parts of the human psyche. Monsters, real and imagined, external and internal, are the subject. They are us and we are them and Ballingrud's intense focus makes these stories incredibly intense and irresistible.
These are love stories. And also monster stories. Sometimes these are monsters in their traditional guises, sometimes they wear the faces of parents, lovers, or ourselves. The often working-class people in these stories are driven to extremes by love. Sometimes, they are ruined; sometimes redeemed. All are faced with the loneliest corners of themselves and strive to find an escape.
About the Show–
This is an eight-part anthology series. Each episode is a different story. They're considered horror and there are indeed some creatures in them. Many have violence and some are downright scary. Each episode is named after a place that lets you know that evil is EVERYWHERE.
The show's tagline is- You can't escape what lives within.
Watch the trailer-
MY THOUGHTS–
The stories and the execution of the show are a perfect storm. This will challenge you not only to rethink your definition of monsters, but you will, in some of the episodes, take a long, hard look at yourself. This is horror as a mirror, to society, to your own belief system, it's poetic and dark.
Sometimes humanity is the monster. That is the best way to describe this. It's not super philosophical in a way that you have to worry about understanding the meaning behind what you just saw. If you don't, it won't matter. It's still a good story. For those deep thinkers, those who pay attention to life around them or to themselves, this will shake you a little.
Slight Spoiler–
These episodes are layered in such a clever way, but it's the second one, episode title Eugene, Oregon, may seem a little silly at first. A little predictable maybe. A teen with a difficult life plays video games and seems a little weird. When he finds a shadow living in his house he goes online for help. Other teens and young adults help him alright. Just like groups on the internet do.
I really thought I had the episode figured out. Even when I realized these episodes would try the old switch & bait making me think one thing when they're doing something else, I still thought I had it figured out. Let me just say that I did not. At the end, when I realized what had just happened, it felt like my heart hiccupped. I processed it a minute. And then I just wanted to cry. Not because the end was meant to be sad. But because I really understood what had happened throughout the episode. Not to the characters. But to me. It's one of those "Oh shit" moments. I can't stop thinking about it even now, weeks after I watched it. And I wonder about how other people reacted to it. How they felt. I really need to find a group to talk about this with! But maybe not an online one.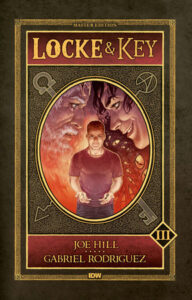 #4 – Locke & Key is a comic series. It's an episodic show that you can watch on Netflix. The genre is young adult paranormal with a side order of horror.
About the comic series–
The series is written by Joe Hill with art by Gabriel Rodriguez published by IDW. There are several issues out already. The first was published in 2008.
Comic series- https://www.penguinrandomhouse.com/series/LK2/locke-and-key
Series copy- Locke & Key tells the story of the Locke siblings, Tyler, Kinsey, and little Bode, who, along with their mother, return to their ancestral home of Keyhouse following their father's gruesome murder. Keyhouse is a place of both wonder and fear, filled with dark doors and the magic keys that open them, and also home to a malicious presence that will stop at nothing in it's quest for the Omega Key and the unspeakable prize it unlocks.
About the Show–
It's episodic but the first season has concluded so you can binge watch it. On Netflix – https://www.netflix.com/title/80241239 There are 11 episodes. There's hope for a second season after COVID.
Watch the trailer-
MY THOUGHTS–
This is such a clever show with adventure, secrets and paranormal elements. It mostly involves a group of teenagers, but specifically the Locke family. I love the idea that each key does something different. It makes you look forward to them finding the next key. And the keys do things I may not have thought about, so it gets extra points for originality.
It's fun and not overly scary. No sexual situations. So, I'm thinking even kids as young as 12 could enjoy this. Younger according to how mature your kid is. The point being that you can watch it as a family and everyone could enjoy it.
Slight Spoiler–
This really isn't much of a spoiler since you can see pictures of it online and see it in the trailer. There's a key that slips into the back of your neck and that just gave me the heebie-jeebies, but it's so fun!
There is an overriding arc to the story that has to do with the dad who was murdered.
One of the best scenes that really gives you an idea of how good this show is happens early on. They've moved to the new house where their dad was raised. You get that the house is unusual.
There's a wishing well in an area that's all bordered up and of course, the youngest of the Locke children feels the need to explore. He wriggles into the area and goes to check out the abandoned well. As any young boy might he is curious about what's down there in the darkness and is happy when he realizes there's an echo when he yells down. He keeps asking "Can anybody hear me?" and the echo returns…. "Yes." And so the adventure begins!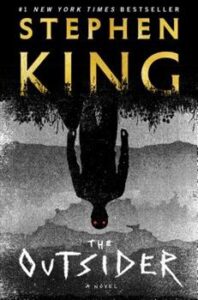 #5 – The Outsider is a novel by Stephen King made into an episodic show on HBO. Not surprisingly, the genre is horror.
About the Book (Back Cover Copy)-
Book- https://stephenking.com/works/novel/outsider.html
An unspeakable crime. A confounding investigation. At a time when the King brand has never been stronger, he has delivered one of his most unsettling and compulsively readable stories.
An eleven-year-old boy's violated corpse is found in a town park. Eyewitnesses and fingerprints point unmistakably to one of Flint City's most popular citizens. He is Terry Maitland, Little League coach, English teacher, husband, and father of two girls. Detective Ralph Anderson, whose son Maitland once coached, orders a quick and very public arrest. Maitland has an alibi, but Anderson and the district attorney soon add DNA evidence to go with the fingerprints and witnesses. Their case seems ironclad.
As the investigation expands and horrifying answers begin to emerge, King's propulsive story kicks into high gear, generating strong tension and almost unbearable suspense. Terry Maitland seems like a nice guy, but is he wearing another face? When the answer comes, it will shock you as only Stephen King can.
I'll be honest, I've not read the book yet. I know, I know…the book is always better. I promise I'll read it!
The show makes me want to read the book. Even though I know the end it doesn't matter. It's the journey that was so damn good!
The acting is superb! There are so many intriguing characters throughout the story. The mystery is well paced and edgy, which I love!
Watch the Trailer!
MY THOUGHTS–
I don't always like Stephen King movies (it's okay, I don't think Mr. King is butt-hurt over that). Sometimes his stuff is a little ridiculous. Sometimes it just doesn't work for me. But as a rule, I do love his storytelling and some of my favorite books and movies are from him.
Not everyone likes to see or read about violence to children. If you don't, I will just assume that you do not read Stephen King books. There aren't many in which children don't play a part. This story is no different. But, it's not just children, so there's that.
This story has such a great mystery feel to it and I loved that so much. It's original in a way that we have come to expect from Stephen King. Is there a creature or is this a serial killer? Oh, what do you think? LOL
This is a good show with a great story!
Slight Spoiler–
I absolutely love that when law enforcement is faced with an impossible set of facts they're determined even when they can't believe it. You see so many shows where law enforcement is faced with something unbelievable and they work so hard to explain it. This set of investigators deals with the facts and when they encounter the impossible they bring in a special researcher that does believe and the mix of these different kinds of people all determined to stop a serial killer is storytelling at its best. It feels so believable and true that you get caught up in it like you're one of the characters. I love that feeling!
We see the killer. We know who did it. We know what he did. And within the first few minutes of the show he is arrested. They got him. No doubt. Until he is able to prove absolutely that he was somewhere else. There are witnesses. He's seen on camera. He's hundreds of miles away from where the crime happened. Does he have an evil twin? All that in just the first episode! Definitely check it out!

Those are my top five and I recommend all of them!
Did I miss any? What are you recommending that has a flare of horror this October?