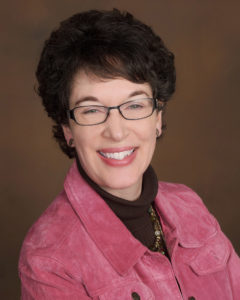 Welcome Regina, we're excited to have you on Reader's Entertainment. First, tell our readers a bit about yourself.
Thanks for having me! I'm the author of more than fifty works of warm, witty historical romance. When I'm not writing, you'll find me reading, taking a walk in the woods or along the shore, or dreaming of the next remodeling project I can convince my husband of 30 years to try.
Where you're from, where you live? Is writing your full-time job?
I was born on an Air Force Base near Tacoma, Washington. After college, I moved to the other side of the state for 20 years, but I'm back home now, south of Tacoma on the way to Mount Rainier National Park. I still do some consulting work in my former profession of technical communication specialist, but the biggest chunk of my day is devoted to writing.
Tell us about your latest release? Where the idea came from?
My October release from Revell is Nothing Short of Wondrous, the second book in my American Wonders Collection, set in our nation's first national park. When I was researching for the first book in the series, A Distance Too Grand, I ran across a mention that the U.S. Cavalry had been called in to save Yellowstone National Park. Of course, I had to learn more! And the more I learned, the more I knew that I had to write that story. It was a lot of fun weaving my fictional characters around the historical ones, the adventures, the daring rescues.
Could you share one detail from your current release with readers that they might not find in the book? Perhaps a juicy bit of back-story, or something only you know about a character.
Will Prescott, my Cavalry officer hero, rattles off a list of places he's served over the years. Many of them are near where I used to live. I've visited Fort Walla Walla, camped near where Fort Colville was located, and toured northeast Oregon. For someone who often writes about historical happenings in far-off places, I loved imaging my hero walking the places I'd walked.
All writers are readers. Are there any particular authors that have influenced how you write and, if so, how have they influenced you?
When I was a child, I loved the Celtic epic fantasy by Lloyd Alexander. I reread them many times over the years, including to my children. Alexander has a way of making characters unique. Even the humorous sidekicks have their own personalities and goals. You'd know them if they walked up to you on the street. You anticipate how they're going to react to different situations. I hope I've been able to breathe that kind of life into my characters.
Do you have a secret talent readers would be surprised by?
I'm really good at digital mahjong. I can play for hours!
Your favorite go to drink or food when the world goes crazy!
Popcorn! But my all-time favorite food is raspberries. My husband even planted a patch of them for me so I can eat them fresh in the summer and freeze them for treats in the winter. He does all the maintenance on the patch too. Now, that's a hero!
What is the one question you never get ask at interviews, but wish you did?
What's the one book I want most to write? Again, there's an intriguing historical tidbit that Napoleon was almost rescued from his exile on St. Helena, by submarine before submarines even existed! Now, that's a story I'd like to write some day!
Thank you so much for joining us today, Regina!!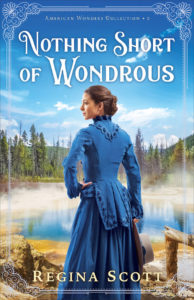 Here's a look at NOTHING SHORT OF WONDROUS, Regina's latest release:
It is 1886, and the government has given the US Cavalry control of Yellowstone. For widowed hotelier Kate Tremaine, the change is a welcome one. She knows every inch of her wilderness home like the back of her hand and wants to see it protected from poachers and vandals.
Refused a guide by Congress, Lieutenant William Prescott must enlist Kate's aid to help him navigate the sprawling park and track down the troublemakers. But a secret from his past makes him wary of the tender feelings the capable and comely widow raises in him. When her 6-year-old son is kidnapped by a poacher who wants the boy to guide him to the place where the last of the Yellowstone bison congregate, Will and Kate must work together to rescue him, save the bison, and protect the park. In doing so, they may just find that two wounded hearts can share one powerful love when God is in control.
You can purchase NOTHING SHORT OF WONDROUS at:
Baker Publishing Group http://www.bakerpublishinggroup.com/books/nothing-short-of-wondrous/396500
Amazon https://www.amazon.com/Nothing-Wondrous-American-Wonders-Collection/dp/0800736400
Barnes and Noble https://www.barnesandnoble.com/w/nothing-short-of-wondrous-regina-scott/1136472118
Books-A-Million https://www.booksamillion.com/p/Nothing-Short-Wondrous/Regina-Scott/9780800736408?id=7863920215082
Christian Book https://www.christianbook.com/nothing-short-of-wondrous-2/9780800736408/pd/0736401
Indie Bound https://www.indiebound.org/book/9780800736408
The Book Depository https://www.bookdepository.com/Nothing-Short-Wondrous-Regina-Scott/9780800736408
ABOUT THE AUTHOR:
Regina Scott is the author of more than 50 works of warm, witty historical romance, including A Distance Too Grand. Her writing has won praise from Booklist and Library Journal, and she was twice awarded the prestigious RT Book Reviews best
book of the year in her category. A devotee of history, she has learned to fence, driven four-in-hand, and sailed on a tall ship, all in the name of research. She and her husband of 30 years live south of Tacoma, Washington, on the way to Mt. Rainier.