The amazingly inspirational and helpful Art Rios talks about his book and how it's never too late to have your best life in his new book entitled LET'S TALK. Now, you can learn more from Art himself in this book trailer by COS Productions!
Let's Talk: About Making Your Life Exciting, Easier, and Exceptional by Art Rios Book Trailer Can you look back at your life and say you have no regrets? Are you bogged down by the meaningless complexities of the world? In his witty, conversational book, Let's Talk, debut author Art Rios wants to make sure his readers know that it's never too late to make your life exciting, easier, and exceptional.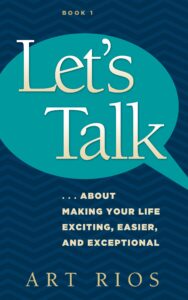 "When, where, why, and how did life stop being exciting and straightforward?" Rios asks. "We've taken on so much stress and worry. All the time. But why? For what?" In each of his "talks," Rios offers fun, simple ways you can improve your life today. It can be as easy as spending more time with family, relaxing with a long lunch, or enjoying a lazy Sunday in your pajamas. "Improving your life doesn't have to be complicated," says Rios. "It's just a matter of putting a little common sense and thought into the way you're living your life."
Here are a few topics that Rios covers in his "talks"
3. How to simplify and declutter your life
4. The power of kindness and gratitude
5. A balanced life of pleasure and responsibility
6. Disconnecting from technology
7. The importance of the lunch break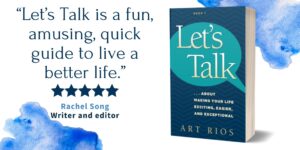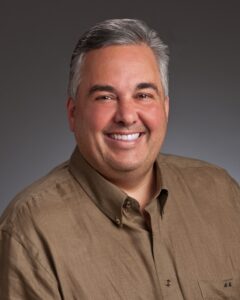 Media Contact: For a review copy of LET'S TALK or to arrange an interview with Art Rios, contact Scott Lorenz of Westwind Communications Book Marketing at scottlorenz@westwindcos.com or by phone at 734-667-2090.
https://www.Book-Marketing-Expert.com