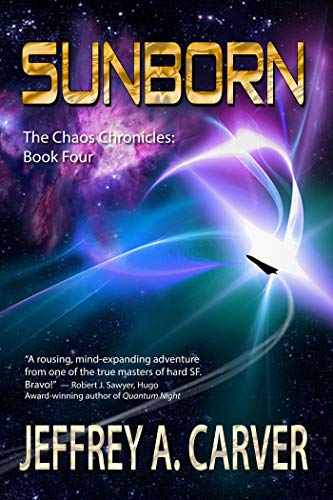 NEBULA AWARD FINALIST, JEFFREY A. CARVER
RELAUNCHES SUNBORN  Book 4 of the Chaos Chronicles Series
Stars are dying.
John Bandicut and his companions are summoned to a star-cloud called Starmaker, known to humans as the Orion Nebula, to discover what force threatens newborn stars–and possibly every world within a thousand light-years. Their journey takes them not just into the perils of a stellar nursery, but into confrontation with the Mindaru, a billion-year-old AI and adversary of life as they know it. The task is daunting. But with the aid of Deep and Dark, sentient clouds who are perhaps the strangest beings they have met yet in their exceedingly strange journey, there may be hope.
Back on Triton, Julie Stone–briefly Bandicut's lover before he was transported away to a new life at the edge of the galaxy–encounters the enigmatic translator, the alien entity that first drew Bandicut into his extraordinary adventures. Julie must face her own life-or-death decision in defense of the Earth–while for Bandicut and company, whatever chance they have of stopping the terrifying Mindaru will be found only in the fiery heart of an intelligent sun.
Sunborn continues the harrowing journey through the tumultuous worlds of The Chaos Chronicles, from the Nebula-nominated author of Eternity's End. It was recently released in new audiobook, print, and ebook editions.
"Leaps quite madly from pot to kettle to frying pan to fire. The pace never lets up…[a] remarkably expansive vision." —Analog

"Carver's latest addition to The Chaos Chronicles… ensures his place among the most inventive of contemporary authors of hard sf and speculative theory. Filled with startling ideas and ingenious plot twists, this sf adventure (along with its series predecessors) belongs in most sf collections. —Library Journal
ABOUT THE AUTHOR:
Jeffrey A. Carver is the author of numerous science fiction novels and stories, including The Chaos Chronicles series and the Nebula-nominated Eternity's End. Though he's an absolute junkie for science, his greatest loves in writing are character, story, and a healthy sense of wonder. He has taught writing all over New England, from Bread Loaf to MIT. He lives with his family in the Boston area. His website and blog are found at starrigger.net. The Reefs of Time and Crucible of Time—a two-volume novel—represents Carver's first new book in eleven years, and is a major addition to his collected works.
To request additional review copies or an interview with Jeffrey A. Carver, please contact Mickey Mikkelson at Creative Edge Publicity: mickey.creativeedge@gmail.com / 403.464.6925.