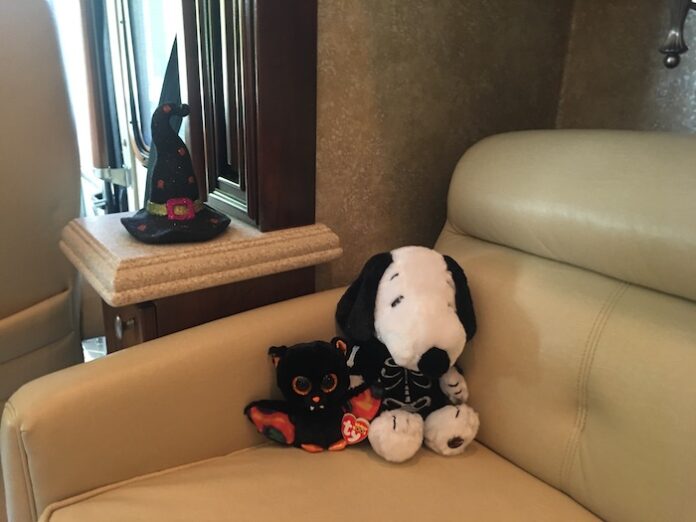 Halloween 2020, Something Old, Something New from author Debra Parmley
PSST! Debra is giving one lucky commentor a free eBook……….
I have always loved Halloween; from the time I was small and dad would take me out trick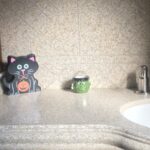 or treating. I loved very girly costumes and one year I had a Batman mask. Though very girly, I was into Batman and even had a Batman lunchbox. Dad loved Halloween too and I have great memories of him taking me and my best friend Ginny through haunted houses. In his later years I remember him wearing his skeleton costume as he passed out candy to neighborhood children. So, for me now, Halloween always brings memories of my dad.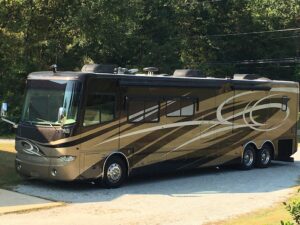 This year my celebration is a mix of new and old, as we have purchased a 2010 Tiffin Allegra bus and will soon be celebrating all our holidays in our new motorhome on the road. We may be visiting family or seeing the U.S. when a holiday arrives. So, the challenge this year while downsizing is to keep decorations that will fit into our newly downsized lifestyle. I have been decorating the motorhome for Halloween and here is how she is looking this year.
Captain Jack, my favorite Jack-O-Lantern, thinks he is the captain of this earth-based ship, and we will just let him think that until captain Michael takes over. Then he can duke it out with co-captain Debra for the passenger seat. (I think I can take him. He is more a lover than a fighter, likes hugs and his little sword is not sharp.)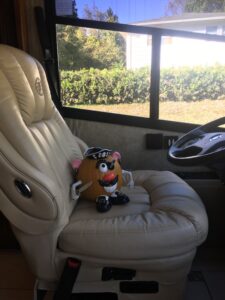 Snoopy, who I love, does the Snoopy dance it you press his foot and sitting with him is his little buddy, named Batty. They are listening to the talking candle flame that lights up.
If you hang around with me you will learn that I love polka dotted things, so I had to have this witch hat with pink polka dots and what is Halloween without a black cat? Since I am trying to lose weight, I have the smallest trick or treat basket ever, made of miniature Frankenstein's head. Not sure where the rest of him has wandered off to.
These are the little things that brighten up my new Halloween decorated home and it has been fun sharing them with you. Tell me what little things brighten up your Halloween and are they new things things this year or traditional?
I will give away one of my eBooks of your choice to one lucky winner if you post below. I also have giveaway treats over on my FB page. Oct 31st is the last day to play! Can't wait to see your Halloween posts!
You'll note I haven't mentioned my books much, so we can just focus on Halloween fun right now. I have all sorts of links you can go to for books and more. On my Pinterest I have spooky Halloween foods on a board. So, leave your comment and then go explore!
With love,
Debra Parmley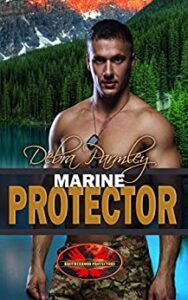 Here's a look at one of Debra's latest releases MARINE PROTECTOR
Phoebe "Red" Adams swore she was never going to join any kind of group again. And the tattoo on her skin and under her skin, which read "property of Z", had to go. At the Three C's ranch, she was determined to learn how to fight hard and how to step into a new life. She'd go to the required classes and otherwise keep to herself. The last thing she was looking for was a new man. She was too busy hiding from her violent ex and his motorcycle club, for if Z found her; she knew he would kill her.
Sergeant Tim "Timbers" Watson USMC opted not to re-enlist in order to stay home when he learned his dad had six months to live. After his father's death, when an offer came in from the Brotherhood Protectors, he stepped up. Providing security would be a breeze compared to his time in Iraq.
Little did she know that when she met Timbers, her walls would start coming down. He wasn't put off by Red's attitude or the walls she'd put up. He'd take those logs down slowly and show her the difference between her controlling, violent ex and this Marine who fought for his country and his women to be independent.
ABOUT THE AUTHOR:
Debra Parmley is a multi-genre author who has been traditionally and Indie published and now has her own boutique press, Belo Dia Publishing Incorporated. Belo Dia is a "Beautiful Day," in Portuguese.
Find out more about Debra and her books at::::
Website: www.debraparmley.com
FB page https://www.facebook.com/debra.parmley.7
FB fan group: https://www.facebook.com/groups/debraparmley/
FB fan page: https://www.facebook.com/authordebraparmley/
To Catch an Elf: Debra Parmley's Creepy Shelf Elf Group! 12 days of creepy elf party https://www.facebook.com/groups/793115644206381/
Instagram https://www.instagram.com/debraparmley/
Pinterest: https://www.pinterest.com/debraparmley/
Book Bub: https://www.bookbub.com/profile/debra-parmley
Goodreads: https://www.goodreads.com/debraparmley
Newsletter sign up: https://landing.mailerlite.com/webforms/landing/w9s9h0
Cover Model Corner blog: https://covermodelcorner.wordpress.com/
Follow Debra's RV travels on Debra's Beautiful Day Traveler travel & writing blog https://beautifuldaytraveler.wordpress.com/
Follow Debra's travels on Debra's Beautiful Day YouTube Channel:
https://www.youtube.com/channel/UC27hTWse4gLJxTETQw6i7xw/
Medium where Debra posts articles: https://medium.com/@debraparmley1
Kof-fi page: Where Debra posts her poems: https://ko-fi.com/debraparmley
Amazon author page: https://www.amazon.com/Debra-Parmley/e/B002BM9H4A%3Fref=dbs_a_mng_rwt_scns_share