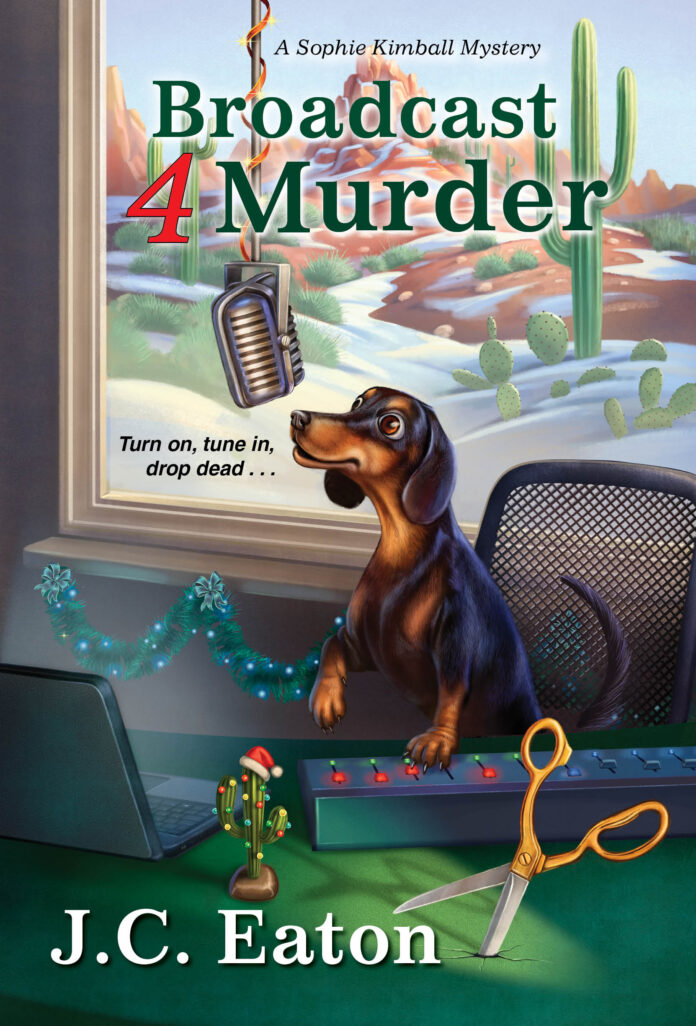 SNEAK PEEK: BROADCAST 4 MURDER BY J.C. EATON
Bookkeeper/accountant and reluctant sleuth, Phee Kimball, is shocked to learn her mother, along with some members of her book club, will be hosting a murder mystery radio show on a local radio station in their retirement community. The women have never been known to stay on topic, even if cozy mysteries are one of their favorites. But when Phee turns on the radio and hears the ladies scream bloody murder, she's convinced it's not part of the show.
Sure enough, the station manager is found dead in the supply closet with a pair of sewing shears shoved through his chest. There's a cadre of suspects, including the man's ex-girlfriend, and a boss with whom he's been at odds, but when the fingerprints on the shears match those of a woman who died decades ago, it's up to Phee to find the real killer before the women in the book club conjure up killers from the great beyond.
Excerpt:
At nine fifty-three, Augusta turned on the radio in our workroom and I joined her at the table, coffee cup in hand.
"Our next appointment isn't due for an hour and I can grab the phone in here," she said.
Canned music was playing on KSCW and I glanced at the wall clock. Five more minutes to go. Suddenly, there was a piercing sound and I heard a man's voice.
"Harriet! What are you and those women doing here? I'm supposed to be going on the air in five minutes."
"Oh my gosh, Augusta, I don't think they realize they're on the air. Someone must have hit the wrong switch and cut off the music."
Augusta opened her mouth to say something but couldn't compete with my mother's radio voice.
"What the heck are you talking about? This is the Booked 4 Murder Mystery Show and today's guests are Shirley Johnson and Lucinda Espinoza. They'll be chatting about sewing- themed cozies."
"Like hell they will! The schedule got changed. Don't you read your email? This is Lake Fishing with Paul and today we're going to talk about lake trout."
"Oh no we're not! You go ahead Shirley, practice your introduction for the show. We go on in a minute."
There was a slight pause and then, "I'm Shirley Johnson and with me today is Lucinda Espinoza. We're joining Harriet Plunkett and Myrna Mittleson to talk about …"  "the Arizona lakes that hold state records for brook and brown trout. Beginning with Sunrise Lake…" "Get out of the way, Paul, today we'll introduce three wonderful authors, Cale Price with Deadly Notions,…Is that a good introduction, Harriet?" "cutthroat trout from Luna Lake and…" "Melissa Boubon with A Seamless Murder…" "Rainbow trout from Tempe Lake and…" "I mean it, Paul. No one wants to hear about trout. Unless they're served on a plate with plenty of almonds and sauce."
Nate burst into the workroom, doubled over with a hand on his stomach. "This is hilarious. They don't realize they're on the air."
"That's a great introduction. Try to speak slower," my mother said.
Then Paul's voice, "Try not to speak at all. Oh for God's sake! We've been on the air all this time. Sorry listeners, this is Paul Schmidt and today I'm going to introduce…" "cozy mysteries with wonderful sewing themes. I'm Shirley Johnson and with me today are…" "the other not so familiar names for lake trout – mackinaw and lake char. That's right, we're taking trout fishing today because…" "there's nothing quite as satisfying as holding one of them in your hand and turning the…" "twenty-two pound winner from…" "Lucinda Espinoza, along with—Hey! You can't yank the mic from me!" "I just did. Sorry listeners, today we're talking trout and—" "Oh no we're not!"
By now, Nate wasn't the only one doubled over. Augusta laughed so hard she lost her breath on two occasions. "It's like watching a train wreck. You want to turn the other way but you can't."
Meanwhile, I was frozen at the table, unable to move. And then, if the unwelcome show introductions weren't enough, the next segment was worse. Far worse. I think my mother started it but I'm not sure. Nate and Augusta were laughing so loud I missed part of broadcast. When I was finally able to hear, it was Myrna's voice on the air.
"Listeners are much more interested in murder mysteries than fish, isn't that so, Lucinda?"
"Absolutely. Especially since we've had two murders in this radio station, and with a scissors and a hat pin…or a very large pin, really. Things cozy mystery seamstresses are well acquainted with."
Oh God no! Oh hell no! Am I hearing what I think I'm hearing?
Paul's voice all but exploded. "I suggest if you don't want the next murders to take place with fish hooks, you'd better get off the air now."
"Lordy," Shirley said, "Are you threatening to kill us with a fish hook?"
"I'm tempted. I'm really tempted. But I don't see any J hooks or circle hooks around here. Come to think of it, I don't see any sewing scissors either. Killer must've brought his or her own."
"Or stashed them here ahead of time," my mother added, unaware it would be the one thing that got Paul to stop talking about fish.
"Pre-meditated, huh?"
"I'm thinking a love interest gone wrong," Lucinda said.
I clapped my hands, making Nate and Augusta jump. "That beats the cake, doesn't it?"
"Show's not over yet," Augusta whispered.
I began to grind my teeth, stopping only when I heard Myrna's voice. "If you want my opinion—"  I don't. I don't. No one does. Keep your opinions to yourself. "Whoever killed Howard Buell and Bucky Zebbler went to a lot of trouble to set up someone else."
Paul's voice got even louder if that was humanly possible. "What makes you say that?"
"Because—"
And then, dead air space.
About The Authors: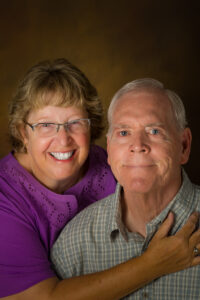 Ann and Jim, writing as J.C. Eaton
Ann I. Goldfarb
New York native Ann I. Goldfarb spent most of her life in education, first as a classroom teacher and later as a middle school principal and professional staff developer. Writing as J. C. Eaton, along with her husband, James Clapp, they have authored the Sophie Kimball Mysteries (Kensington), The Wine Trail Mysteries (Kensington Lyrical Underground and Beyond the Page Publishing), and the Marcie Rayner Mysteries (Camel). In addition, Ann has nine published YA time travel mysteries under her own name.
James E. Clapp
When James E. Clapp retired as the tasting room manager for a large upstate New York winery, he never imagined he'd be co-authoring cozy mysteries with his wife, Ann I. Goldfarb.  Non-fiction in the form of informational brochures and workshop materials treating the winery industry were his forte along with an extensive background and experience in construction that started with his service in the U.S. Navy and included vocational school classroom teaching.
Social Media Links:
www.facebook.com/JCEatonauthor/
https://twitter.com/JCEatonauthor
https://bookbub.com/authors/j-c-eaton
https://www.instagram.com/j.c.eaton/