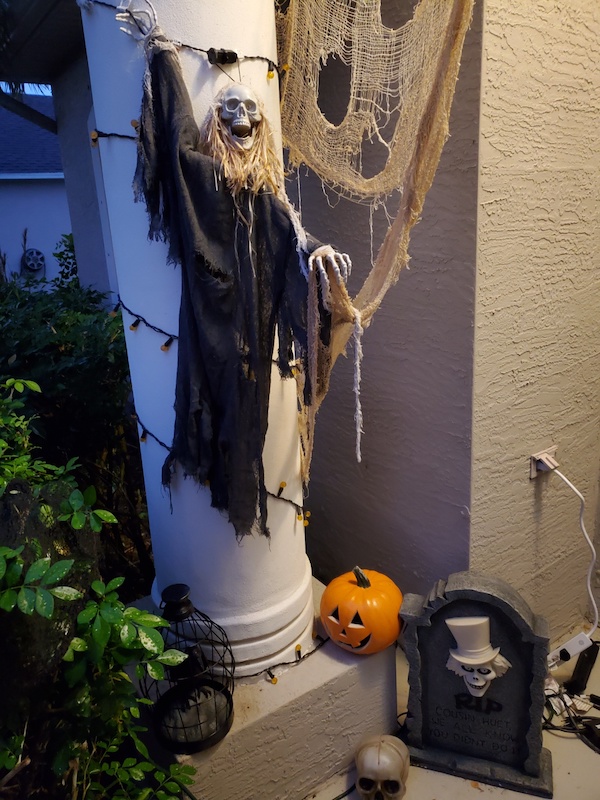 Happy Halloween from Lisa's Lair!
I'm paranormal romance author, Lisa Kessler, and paranormal isn't just a brand for me, it's part of who I am. Don't worry, I'm not a ghost or a vampire, but I do love all things supernatural. For almost 7 years I volunteered as a docent at the Whaley House (America's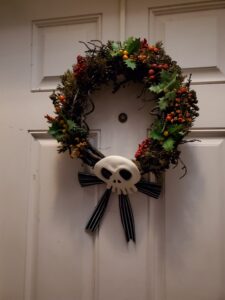 Most Haunted Residence) and loved my time and ghostly experiences there. I am also a professional tarot card reader and have participated in psychic fairs and metaphysical classes.
So it should surprise no one that I am all about the Halloween season! LOL
Every year I update my Annual Halloween Movie Countdown which runs daily on my Facebook page. (http://facebook.com/LisaKesslerWriter ) You can find all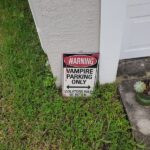 types of spooky flicks from funny to scary, to musicals over there. I also share spooky short stories with my newsletter subscribers as well as free books and sales! Right now you can pick up Night Demon for FREE and Pirate's Persuasion for only .99!
I also have a blast setting up my annual Haunted Porch! We recently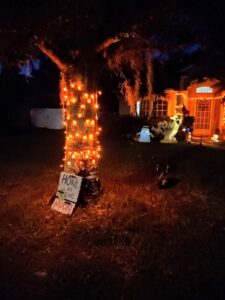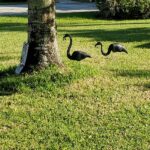 packed up and moved cross-country to Florida, so this is my first Haunted Porch on the east coast… I'm happy to report my neighbors have already come over to express their love for my black zombie flamingoes… LOL
Here they are basking in the orange glow of the oak tree!
Hope you all have a great Halloween! And wear your masks proudly!
Lisa
CHECK OUT LISA'S LATEST RELEASE Pirate's Persuasion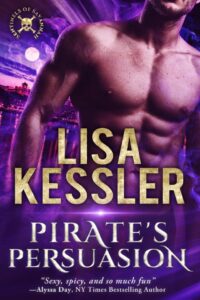 Immortal pirate Drake Cole has a reputation in Savannah for his custom woodworking and historical restorations, but his work has grown into an obsession. He's become a stranger to his crew since the Sea Dog sank in 1795. None of them know his painful secret. A young stowaway went down with the ship, one that Drake swore a blood oath to protect.
The ghost of a young boy, lost at sea over two hundred years ago, leads local medium, Heather Storrey right to Drake's door. He saved her life before, and now she has a chance to return the favor, but how can she protect him from a curse that no one can see?
A dark coven possesses the figurehead from the Flying Dutchman, and if Heather and the immortal Sea Dog crew don't locate the relic soon, Drake may be lost to them forever. Heather has seen the passionate man behind the veil of guilt, and she's determined to free him from his self-imposed prison, and persuade this pirate to love again.
Grab your copy HERE:
ABOUT THE AUTHOR:
Lisa Kessler is a Best Selling author of dark paranormal fiction. She's a two-time San Diego Book Award winner for Best Published Fantasy-Sci-fi-Horror and Best Published Romance. Her books have also won the PRISM award, the Award of Excellence, the National Excellence in Romantic Fiction Award, the Award of Merit from the Holt Medallion, and an International Digital Award for Best Paranormal.
Her short stories have been published in print anthologies and magazines,and her vampire story, Immortal Beloved, was a finalist for a Bram Stoker award.
When she's not writing, Lisa is a professional vocalist, and has performed with San Diego Opera as well as other musical theater companies in San Diego.
http://facebook.com/LisaKesslerWriter
http://patreon.com/LisaKessler
http://goodreads.com/LisaKessler
http://instagram.com/LdyDisney
http://pinterest.com/LdyDisney