The Runaway Bride by Jody Hedlund
Book review by Holly Irish
My rating: 4 of 5 stars
This book was a delight. I always enjoy Jody's stories. She just has a way of brining the reader in and making her characters come to life. I wish I would have read this book sooner. Arabella is a strong character. She comes from a wealthy family and knows that she has a place in society. However, when her father arranges a marriage for her, she rebels (for good reason) and jumps on a ship to British Colombia. There she enjoys her freedom and finds out what truly makes her happy. This is such a great story I recommend it to anyone that loves a soft, romance. Happy reading my friends.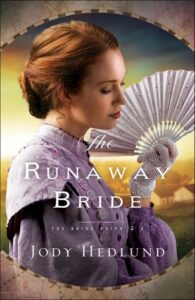 Book Summary:
Haunted by mistakes in her past, will she ever again trust her heart to another?
Wealthy Arabella Lawrence flees to British Columbia on a bride ship, still bearing the scars of past mistakes. One of the few single women in the boomtown, she immediately attracts suitors, but she is determined not to find herself trapped again by making a poor choice.
Vying for her hand are two very different men. Lieutenant Richard Drummond is a gentleman in the Navy, held in high esteem. Peter Kelly is the town's baker who has worked hard to build a thriving business. He and Drummond not only compete for Arabella's affections, but also clash over their views of how the natives should be treated in the midst of a smallpox outbreak.
As Arabella begins to overcome her fears, she discovers someone in dire need—a starving girl left behind by her tribe. Intent on helping the child, Arabella leans on Peter's advice and guidance. Will she have the wisdom to make the right decision, or will seeking what's right cost both her and Peter everything?