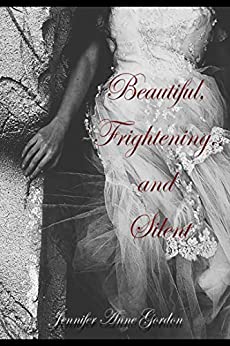 BEAUTIFUL, FRIGHTENING, AND SILENT 
The debut novel by critically acclaimed Horror Author, Jennifer Anne Gordon
Winner Kindle Book Award for Best Horror/Suspense 2020
Adam, a young alcoholic, slowly descends into madness while dealing with the psychological scars of childhood trauma which are reawakened when his son and wife die in a car accident that he feels he is responsible for. After a failed suicide attempt, and more group meetings that he can mention. Adam hears a rumor of a Haunted Island off the Coast of Maine, where "if someone wants it bad enough" they could be reunited with a lost loved one.
In his desperate attempt to connect with the ghost of his four-and-a half year old son, he decides to go there, to Dagger Island, desperate to apologize to, or be condemned by, his young son. Adam is not sure what he deserves or even which of these he wants more. While staying in a crumbling old boarding house, he becomes involved with a beautiful and manipulative ghost who has spent 60 years tormenting the now elderly man who was her lover, and ultimately her murderer. The three of them create a "Menage-a-Guilt" as they all come to terms with what it is that ties them so emotionally to their memories and their very "existence". Beautiful, Frightening, and Silent is a poetic fever dream of grief, love, and the terrifying ways that obsession can change who we are.
Praise for Jennifer Anne Gordon:
"This book is dark, twisted, and lyrical. This story starts with grief. I felt so deeply for Adam and what he has experienced through the loss of his family and the guilt that follows him since the accident. This book is painful to read, but it also continuously gave me the feeling of running towards something. The story kept me on my toes sitting right between the real world and fantasy paranormal so that I was never sure where we would go next. There are twists and turns throughout that left me surprised each time while at the same time feeling like there was nowhere else for the story to go.", Kassie Romo, Reviewer for Reedsy
"This book is nothing that I expected and everything I wanted.  It kept breaking my heart and devouring every word until the very last line," Russell Nohelty USA Today Bestseller
ABOUT THE AUTHOR: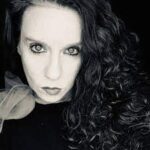 Jennifer Anne Gordon is a gothic horror novelist. Her work includes Beautiful, Frightening and Silent (2020) which is a winner in the Kindle Book Review Awards, and From Daylight to Madness (The Hotel book 1), and coming out in November 2020, When the Sleeping Dead Still Talk (The Hotel book 2).
She had a collection of her mixed media artwork published during spring of 2020, entitled Victoriana: mixed media art of Jennifer Gordon
Jennifer is one of the hosts as well as the creator of Vox Vomitus, a video podcast on the Global Authors on the Air Network, as well as the Co-Host of the You Tube Channel.
"Talk Horror To Me". She had been a contributor to Ladies of Horror Fiction, as well as Horror Tree.
She graduated from the New Hampshire Institute of Art, where she studied Acting. She also studied at the University of New Hampshire with a concentration in Art History and English. 
She has made her living as an actress, a magician's assistant, a "gallerina", a comic book dealer, a painter, and burlesque performer and for the past 10 years as an award-winning professional ballroom dancer, performer, instructor, and choreographer. More information can be found about Jennifer at: https://www.jenniferannegordon.com/